90% of young Europeans believe climate change and environmental breakdown are the world's greatest threats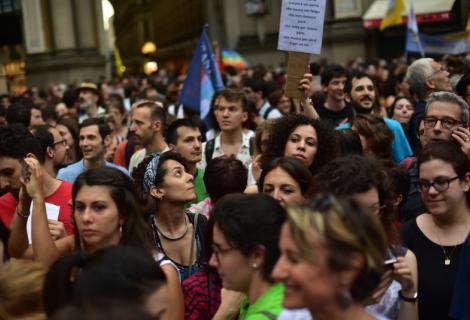 Nine out of 10 young Europeans believe climate change and environmental breakdown are the most serious threats facing the world today, according to a new campaign by ActionAid.
As part of the Climate of Change project, the polling company Ipsos was commissioned to survey more than 22,300 young people, aged 15 to 35 years old, in 23* countries across Europe.
Key findings of the poll, launched to coincide with Earth Day and the Leaders' Climate Summit, convened by US President Joe Biden, include:
90% of young people believe climate change (46%) and environmental degradation (44%) are the most serious problems facing the world;
84% are fairly, very or extremely worried about climate change, with nearly half (46%) very or extremely worried;
Less than one out of ten young Europeans (8%) deny climate change;
Around half believe that industries (52%) and governments (49%) are most responsible for tackling the climate crisis;
77% agree with the statement 'our consumption habits are not sustainable if we want to preserve the environment'. 
Julia Sánchez, Secretary General of ActionAid International, says: "Young people in Europe are clearly deeply concerned about the impact the climate crisis, pollution, loss of biodiversity and deforestation are having on communities and the planet.
"There is a recognition that governments and industries are most responsible for acting on climate change and strong belief in climate justice, with 43% saying rich, developed countries should make the most economic and political efforts to reduce the impacts of the crisis.
"Governments must listen to young and future voters. Using net zero targets as a smokescreen for delaying climate action, will not secure a just, green and feminist future for the next generation. We need real targets that cut emissions now and support developing countries to adapt and recover from devastating climate disasters." 
The survey shows that young people strongly believe that governments must action on the climate crisis: 70% agree that if they don't it will be 'bad for the economy' and 72% agree it would be 'dangerous and irresponsible'.
Young people are also prepared to take action themselves, with 75% saying they have or might vote for politicians that prioritise climate issues, 62% saying they would boycott environmentally harmful products and 59% saying they would protest to demand their government addresses the climate crisis. 
The survey was carried out as part of the Climate of Change campaign, funded by the European Commission, which aims to build a youth movement for climate justice that demands the protection and social wellbeing of communities.
Gerasimos Kouvaras, General Director of ActionAid Greece, says: "As Europeans, we have a duty to push for climate justice and to work towards a sustainable, democratic and fair economy that serves the needs of all people globally. More specifically, we are calling on the EU to step up and support global justice by providing financial and technical support to countries that are affected by climate change and by developing an international protection scheme for climate change-induced migration.
"Fair and human-rights-based migration and adaptation policies can boost the resilience of the most vulnerable people and ensure a sustainable future for younger generations".
Ends.
For more information and interviews contact Jenna.Pudelek@actionaid.org or call +447795642990.
Notes to editors:
The survey was conducted between 29 October and 19 November 2020. In total 22,377 surveys were completed across the countries. In 21 of the 23 countries surveyed >1,000 interviews were conducted. In Cyprus and Malta >500 respondents were interviewed.
*Austria (AT), Belgium (BE), Bulgaria (BG), Cyprus (CY), Czechia (CZ), Germany (DE), Estonia (EE), Greece (EL), Spain (ES), France (FR), Croatia (HR), Hungary (HU), Ireland (IE), Italy (IT), Lithuania (LT), Latvia (LV), Malta (MT), Netherlands (NL). Poland (PL), Portugal (PT), Romania (RO), Slovenia (SI) and Slovakia (SK).