Young volunteers support Palestinian olive farmers after Israeli settler attacks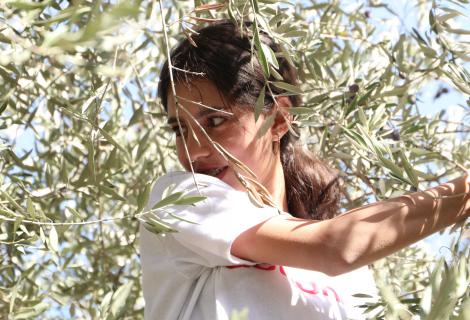 Young volunteers lent support to Palestinian farmers with olive picking this year after violent attacks from Israeli settlers threatened to disrupt their vital harvest. 
The young people, who have received training from ActionAid Palestine, wanted to show solidarity with the farmers during the olive harvest. 
According to the United Nations Office for the Coordination of Humanitarian Affairs (UNOCHA), olive farmers faced 24 attacks by Israeli settlers during October. These resulted in injuries, the burning of more than 1,000 olive trees, and the theft of large amounts of produce.
Olive products are a vital part of Palestine's culture and economy. With 12 million olive trees across the West Bank and Gaza, the olive harvest is one of the biggest sources of income for more than 100,000 Palestinian families. 
Muhannad Mubrak, one of the young activists who took part in the olive picking, says: "We aim to strengthen the resilience of the Palestinian farmers and send a message stating that we are here to stay, and this is our land."
ActionAid Palestine's work aims to highlight the struggles of Palestinian farmers who face restrictions accessing their land, confiscation of water sources, violence, and insecurity.
Raneem Faraj, a young Palestinian volunteer says: "The participation in olive picking is important since it strengthens our affiliation with the land. The land and olives symbolise our cause. The Israeli Occupation tries to damage them, but like the Palestinian people they are strong and resilient."
Through working with young people in the occupied Palestinian territories, ActionAid connects them to farmers during the olive harvest, supporting the farmers to become more resilient to threats and to reclaim their land.  
ActionAid supports olive pickers during olive harvest in the villages of Walageh in the West of Bethlehem governorate and Shweikah in the north of Tulkarem governorate.
Ends.
Notes to editors: 
For more information please contact: jess.midwinter@actionaid.org / (+) 44 7858436362

ActionAid is among 80 NGOs calling for the protection of Palestinian olive farmers. You can find out more here
The olive oil industry accounts for a quarter of the gross agricultural income of the occupied territories. You can find more about olive picking on the West Bank here