Women lead ActionAid's response to Covid-19 crisis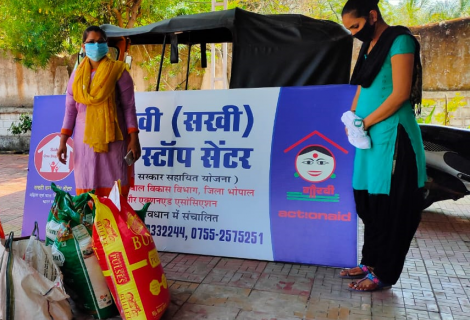 As the coronavirus crisis continues to escalate globally and hits some of the world's poorest countries, women are leading ActionAid's fight to protect the most marginalised during the pandemic.
The global social justice organisation is building on lessons learnt during the Ebola crisis by using its network of local partners and women's rights organisations to share vital public health information with vulnerable communities.
Julia Sánchez, secretary general of ActionAid, says: "Humanitarian crises and disease outbreaks exacerbate existing gender inequalities and increase violence against women and girls.
"Stress, money worries and lockdowns are increasing the likelihood of domestic violence, with survivors forced to stay at home with their abusers, and school closures putting girls at risk of early marriage.
"We take a women-led approach to humanitarian responses because they have a strong understanding of their communities and are best placed to address the disproportionate impact of emergencies on women and girls.
"Women's protection and leadership must be central to response plans locally and globally."
Women, the poor and most marginalised will be hardest hit by the Covid-19 pandemic.
In India, where 1.3 billion people have been told to stay at home, ActionAid is distributing food packages and is hoping to reach more than 55,000 of the most vulnerable families, including informal workers, such as domestic workers and street vendors, who will have no way to earn a living during the lockdown.
Globally, ActionAid is calling on governments to ensure that social protections target women, whose care duties will double as they are at the forefront of caring for the sick, home-schooling, working informal jobs and collecting water.
ActionAid offices, including in India, are also working hard to tackle the spread of misinformation about the disease, translating vital public health advice into local languages and ensuring it reaches the most marginalised communities.
In Liberia, ActionAid is using lessons learnt during the Ebola crisis to access hard to reach communities by using its network of local partners, including women's rights organisations and rural women's leaders, to distribute life-saving advice and health information. Social media and virtual meetings will be used for mobilising communities and spreading awareness messages.
During the Ebola crisis there was a dramatic increase in violence against women and girls, as police were unable to respond, support services reduced, and survivors were left unable to access justice.
Lakshmi Subramani, country director of ActionAid Liberia, says: "We're calling on the government to ensure that access to justice and women's protection are central to national response plans. Rape and other forms of sexual and gender-based violence spike during disease outbreaks, women must be able to report cases during the pandemic and resources must be available to support survivors.
"As primary caregivers and health workers, women are on the frontline of the crisis and must be empowered to take leadership roles in the response. Women and young people will be leading our work to reach marginalised communities with health messages."
In Kenya, ActionAid has supported the humanitarian response to the Covid-19 pandemic by distributing information and myth-busting leaflets to communities through its network of women's collectives and community groups. 
The organisation works in informal settlements, which are overcrowded and likely to be worst affected by the coronavirus outbreak. Women are at the forefront of caring for the sick, home schooling, working in precarious jobs and are at greatest risk of falling through the safety net.
ActionAid Kenya is calling on the government to ensure guaranteed paid sick leave is available to all workers, both in the formal and informal sectors, and that people living in informal settlements will have access to free, clean, drinking water and health facilities staffed by skilled professionals.
Makena Mwobobia, executive director ActionAid Kenya, says: "Information can save lives. We've been working with government and World Health Organisation public awareness materials and ensuring they are read, heard and understood by communities across the nation."
In Palestine, ActionAid is using its network of young activists to distribute food parcels and hygiene kits to vulnerable families in home quarantine in Bethlehem.
Young volunteers, who received training on how to protect themselves and others from Covid-19, have this week distributed 300 hygiene kits, including anti-bacterial hand gel, gloves, toilet paper and soap, to 1,600 people in Bethlehem.
In Italy, the country worst affected by the pandemic in Europe, ActionAid has set up a digital community platform for sharing information about Covid-19, including news, solidarity initiatives, home shopping deliveries, fundraisers, psychological support and a section that tackles 'fake news' about the outbreak.  
The organisation is also raising awareness about the risks faced by survivors of domestic violence during the lockdown. ActionAid has created a fund to support anti-violence centres and guarantee their work can continue during and after the emergency. This is particularly focused on giving women, who face economic pressures due to the pandemic, an escape route from violence.
Ends.
For more information and interviews, contact Jenna Pudelek in the ActionAid press office on +44(0)7795642990 or email jenna.pudelek@actionaid.org.