Trump administration must stop exporting Covid-19 to Central America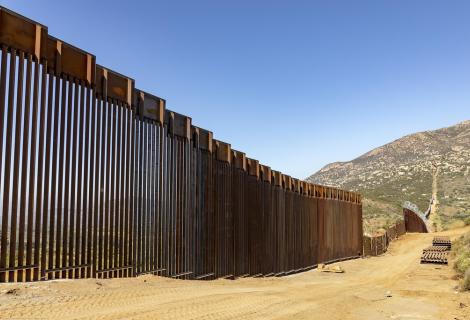 As the United States resumes deportation flights to Guatemala, ActionAid is calling for an end to the Trump administration's inhumane and disastrous policy of mass detention and expulsion of migrants – which is effectively exporting Covid-19 to some of the poorest countries in Central America.
Immigration detention centres, like other jails, are literal breeding grounds for infectious diseases like coronavirus. Healthcare workers across the U.S. have launched actions demanding that detainees are freed to prevent a public health disaster.
According to U.S. Immigration and Customs Enforcement (ICE), by mid-May, several months into the pandemic, fewer than 8% of people in detention had been tested for Covid-19, and of those, nearly 50% had tested positive.
Niranjali Amerasinghe, ActionAid USA's Executive Director, says: "The Trump administration's disastrous mishandling of the Covid-19 crisis in the United States has been well-documented. Less well-known is the fact that the Trump administration's response to COVID-19 is also catastrophic for neighboring countries.
"By refusing to halt mass immigrant detention and deportation, the administration is effectively exporting the virus to Central American countries."
These policies could prove devastating for countries like Haiti and Guatemala, where underfunded, ailing health systems are already overstretched by the pandemic.
Despite protests from the Guatemalan authorities and civil society, flights from the U.S. continue and more than 180 deportees have tested positive for Covid-19.
Similarly, Haiti asked for a suspension of deportation flights, which the Trump administration refused. At least three people tested positive for Covid-19 upon landing back in Haiti, and hundreds more have been deported in the last month without being tested.
For Haiti, management of deportees is a massive challenge even in normal conditions. The country has few resources to face the pandemic and to organise adequate testing.
Niranjali adds: "In addition to being responsible for thousands of Covid-related deaths in the U.S., the Trump administration's actions are contributing to a spike in Covid-19 cases in Haiti and Guatemala, putting unnecessary and avoidable strain on those countries' already fragile healthcare systems.
"The Trump administration must immediately halt deportations and release all detained migrants, and federal, state and local governments must make sure all immigrants, regardless of status, have access to the care they need to stay healthy during this pandemic."
As ActionAid responds to the Covid-19 crisis in 40 countries, the organisation's offices in Haiti and Guatemala are deeply concerned that U.S. deportation flights are increasing the exposure of already vulnerable populations to Covid-19.
Ends.
For more information and interviews contact Jenna.Pudelek@actionaid.org or call +447795642990.
Notes:
Read ActionAid USA's blog post about the deportation of Covid-positive migrants to Central America in full: https://www.actionaidusa.org/blog/the-u-s-is-exporting-coronavirus-to-its-southern-neighbors/
ActionAid is on the frontline of responding to the Covid-19 crisis globally. We're running emergency food distributions in countries where millions of families have lost their livelihoods and have no way of earning money due to lockdowns and coronavirus restrictions.
We're distributing live-saving public health information to raise awareness about Covid-19, along with quarantine kits containing masks, hand sanitiser and soap. ActionAid is putting women at the heart of our response: from Italy to Nepal, Liberia to Kenya, ActionAid-supported women's groups are leading our response, because local women know their communities better than anyone.