Shell climate case: NGOs take fossil fuel giant to court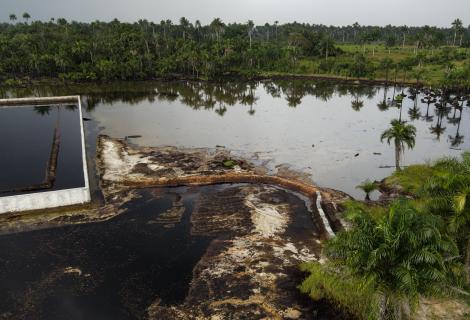 The Hague – ActionAid is one of seven environmental and human rights organisations, led by Friends of the Earth Netherlands, taking legal action against Shell to demand it reduces its emissions in line with global climate goals.
Speaking from The Hague ahead of the first hearing tomorrow (1 December), Nils Mollema, climate justice policy advisor at ActionAid Netherlands, says:
"The devastating effects of climate change are becoming increasingly visible. We see it in the communities that we work with in the Global South, where people are being impacted by increasingly frequent and intense floods, droughts, cyclones, typhoons, and other climate disasters.
"They are worst hit, but least to blame. Everybody needs to pitch in if we are to tackle the climate crisis, especially big polluters like Shell. But Shell and its shareholders are not taking their responsibility, that's why we are taking legal action with Milieudefensie (Friends of the Earth Netherlands)."   
ActionAid's global climate lead, Harjeet Singh, says:
"Shell has known that drilling for oil and gas causes climate change for over 50 years. Despite paying lip service to the Paris climate agreement, it is planning to increase oil and gas production and investment.
"This is incompatible with achieving global climate goals. This case is about cutting through Shell's greenwash and putting in place real emission-cutting targets, which will protect all our futures."  
Ends.
For more information and interviews contact Jenna.Pudelek@actionaid.org or call +447795642990.
Notes to editors:
In November 2020, ActionAid worked with Nigerian filmmaker Nora Awolowo to capture the stories of communities affected by Shell's polluting activities in the Niger Delta. She spoke to families whose lives and livelihoods are being devastated by oil spills, gas flaring, polluted water and human rights abuses.
Communities in the Niger Delta are also being hit by increasingly frequent and severe flooding, fuelled by the climate crisis, caused by Shell and other big polluters.
Download media b-roll and stills here:
https://stories.actionaid.org/pages/search.php?search=%21collection57972&k=6766a6caa1
https://stories.actionaid.org/?r=247739&k=2c942667ed