Liberia's Musicians and Artists unite to fight Covid-19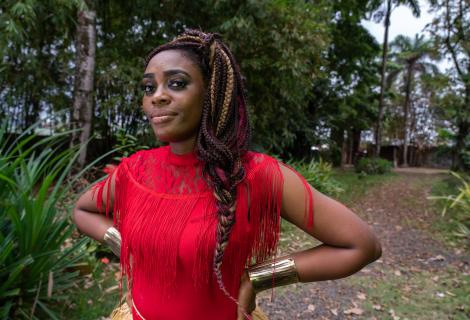 Young people in Liberia are using the power of the creative arts to help combat the spread of Covid-19 and a new music video by Liberian singer/songwriter, Faith Vonic, age 22, has racked up thousands of views. With 60% of Liberia's population under 35, the afropop and hipco musician has partnered with ActionAid Liberia to use her platform and talent to raise awareness of the deadly pandemic
Having campaigned previously during the Ebola outbreak, Faith knows that music in West Africa is a powerful tactic to bring the country together and hopes her coronavirus awareness song 'Africa Fight' will inform young people of how to avoid catching the virus. 
Faith says: "Growing up was tough. I am a survivor of sexual violence and have struggled with my mental health, but music was my escape. The love I have for music is one of the best ways I can express my feelings and inspire others. I want to see more Liberian young women with the confidence to use music, art, and creative activism to express themselves and advocate for their rights. The scariest thing for me is that some people are doubting that we even have Covid-19.
"I want every young girl in Liberia to normalise working hard and being her own boss. Let us work towards making Liberia a better place, because I believe it is us, the women, who can do it."
Faith Vonic has been partnering with ActionAid Liberia as a member of Liberia Artists Together for Advancement (LATA) since the Ebola outbreak in 2014 and works with young girls across the country empowering them to advocate for their rights and supports them to build confidence. 
In Liberia's capital, Monrovia, street artists have also created a series of brightly coloured murals to help stop the spread of coronavirus and warn about rising violence against women and girls. The eye-catching, graffiti-style walls are the work of young women activists and artists, also supported by ActionAid.
The murals promote public health measures – which are vital when only three in 100 homes have access to clean water and soap, and where there are only seven ventilators available for the whole country. They are also aimed at dispelling fake news and misinformation about the virus, which is rife in Liberia.
Street artist Agnes Kah, 22, a student and member of ActionAid's Activista youth network, says: "People love art in Liberia, when we were drawing the mural, people were watching and asking questions. We are telling people that Covid-19 is real, we should practice social distancing. I joined so that mine and other women's voices can be heard. I am proud to be using my art to spread messages." 
The artworks are located around Monrovia, Liberia's capital, in areas where lots of young people congregate. Their message also focuses on sexual and reproductive health rights, helping to increase access to services and ensure young people are practising safe sex. They also address teenage pregnancy, unsafe abortion, and gender-based violence, promoting ActionAid Liberia's helpline for people to report any cases of abuse and violence. 
Agnes adds: "People say art is not for women; but it is for me. When I was younger everyone wanted to kill my dream, but I said no. This is what I love to do, and I want to see where I can go."
Women are hit hardest by any emergency, and especially Covid-19. The majority of health workers, home schoolers and carers are women, and women are most likely to be in informal, precarious and low paid work.
Recent ActionAid research found violence against women and girls, rape and femicide is still skyrocketing during Covid-19 lockdowns and restrictions. Many women's organisations are struggling to continue their vital work, with shelters and health services shut down, funding diverted to battle coronavirus and court closures preventing survivors accessing justice.
Governments must give women a voice, protection and power so we rebuild our post-Covid economies and communities to be fair and just.
Patience Landford, head of programmes and policy at ActionAid Liberia, says: "Both Faith Vonic's music and the murals amplify voices of young and often marginalised people, they act as a medium for creativity and innovation whilst raising awareness to change social behaviour. 
"The music and the murals both focus on Covid-19 prevention, so communities know what they need to do to ensure that they're protected and safe. The pandemic has had a huge impact on young people, especially young women because of existing vulnerabilities which have been exacerbated. 
"The murals also spread vital messages on sexual and reproductive health rights. Whilst Faith Vonic's commitment to empowering young girls through ActionAid Liberia's Activista network and her music, allows her to inspire and connect to a younger audience."
Watch Faith Vonic's new music video for Africa Fight here
View our Faith Vonic content here
Download the collection of mural images here
Ends.
For more information and interviews contact: jess.midwinter@actionaid.org