Indigenous and rural women lead emergency response in typhoon-hit communities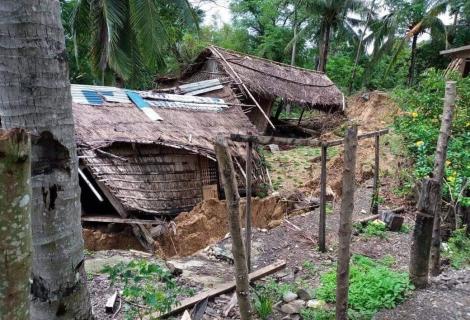 ActionAid's partners respond as multiple typhoons, Goni, Molave and Vamco, batter the Philippines
Manila, 11 November 2020 – As communities in the Philippines confront the devastation caused by Super Typhoon Goni and now face the threat of Typhoon Vamco, indigenous and rural women are providing emergency relief to families most affected by the deadly storm.  
Vamco is the 21st tropical storm to hit the island nation this year and is headed towards areas already devastated by Typhoon Goni, the most powerful storm of 2020, which struck less than a week after Typhoon Molave.
ActionAid's partner in the Philippines, Women in Emergencies Network (WENet), is working with local member organisations in Bicol and Mindoro island where tropical storms, violent winds, flooding and landslides have caused widespread destruction of homes and farmland, as communities battle the Covid-19 health and economic crisis.
Indigenous women's right organisation, LILAK, is working with women from the Hanunuo Mangyan community, who were trained as emergency responders following Super Typhoon Haiyan in 2013, which killed more than 7,360 people and is one of the most powerful storms to ever hit the island nation.
Judy Pasimio, coordinator at LILAK, says: "Indigenous women have already been badly hit by the Covid-19 lockdown. Being unable to transport their produce and access markets has led to increasing poverty and hunger in their communities.
"They have already lost much of their ancestral territory to corporate land grabs. Now typhoons and climate disasters are compounding their struggles and destroying the little farmland they have left."
LILAK is providing emergency relief, distributed by indigenous women to their communities, to help rebuild homes and provide essential food support, water, hygiene kits and blankets. It is also using SMS messages to send out vital public health information and updates on Covid-19 and tropical storms to help keep hard to reach communities safe.
As violence against women and girls increases during emergencies, ActionAid is working with the National Rural Women Coalition (PKKK), to ensure that services to address gender-based violence remain open and set up GBV watch groups to protect women and girls.
Amparo Miciano Sykioco, secretary general at PKKK, says: "Women were in a dire situation before Goni due to Typhoon Molave and Covid-19. Many farmers and fisherfolks lost their livelihoods during lockdown, making them more vulnerable, especially women and girls. The storms, flooding and landslides are worsening their situation.
"The typhoons are adding a heavy burden to the already overflowing amount of unpaid care work that is falling on rural women. Women are often the ones who look after children, disabled people and older family members during and after emergencies, but this work remains undervalued, invisible and neglected."
Typhoon Goni caused water and power interruptions in most areas of the Bicol region. This has left some of the poorest and most remote areas struggling to access life-saving information. 
Ends.
For more information and interviews contact Jenna.Pudelek@actionaid.org or call +447795642990.
Notes to editors:
ActionAid is a global federation working for a world free from poverty and injustice. For more information visit https://actionaid.org/.