Fleeing the climate crisis: Maleka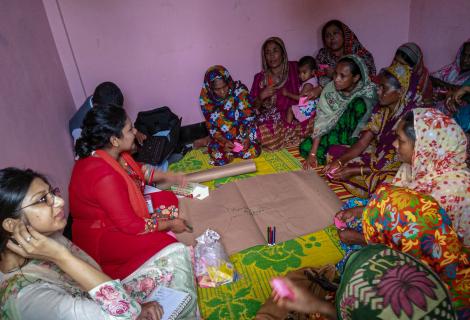 Severe flooding and rising sea levels are forcing thousands of people to migrate to Bangladesh's capital Dhaka
During recent  floods, half of the village of Miarchar was submerged in water, with livestock washed away and farmland destroyed. The floods forced almost the entire community to make the long journey to Dhaka, almost 266km away.
Those moving to Dhaka find work in the informal sector, working in garment factories and as housekeepers. Those left in the villages of Sunamganj in north-western Bangladesh are facing increasing food insecurity, with many families reducing the number of meals they can eat each day. 

Maleka is 16 years old and has been working as a housekeeper in Dhaka for the last four years. She is the third eldest of the seven siblings, she is earning money to support her family. Both Maleka and her elder sister Riba work in Dhaka whilst the rest of their siblings and parents live in Miarchar.

Due to the floods the family's house has been damaged four times in eight years. While rebuilding their house, her father had a major leg injury which left him immobile and unable to work. Her mother also had to stop working for medical reasons. There was never enough food, toilets were submerged in water, and the family was in debt.
This forced Maleka to leave her school and move to Dhaka to send money home to her family "I always wanted to a teacher. But god had a different plan. My dream doesn't matter anymore," says Maleka with a sad smile on her face. 
When asked whether she would like to return to her home village, Maleka adds: "If there are work opportunities like Dhaka offers, of course I will come back. I miss my family very much.