#EndSARS protests: ActionAid calls for peace and justice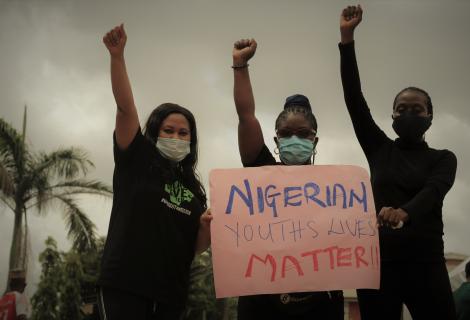 ActionAid is calling for justice for the young people injured or killed when security agencies unleashed lethal force to quash protests against police brutality in Nigeria.  
Since the #EndSARS mobilisations began on 8 October, reports suggest that at least 69 people have died as thousands of protesters, led by young people, took to the streets, demanding the disbanding of the Special Anti-Robbery Squad (SARS), governance reforms and an end to endemic corruption.  
ActionAid is horrified by the extrajudicial violence being exerted by state forces. During the deadly Lekki toll gate protest, reports and eye-witness accounts detail how security forces shot at peaceful protesters, killing many people.
Such actions violate rights to life, freedom of expression and peaceful assembly, and must be subject to a transparent, independent investigation.
ActionAid is calling on Nigeria's government to:
Recognise that citizens' rights have been trampled on through the use of excess force. The Lekki protest must be investigated and those who ordered the shooting, as well as the officers who fired at peaceful protestors, must be brought to book openly for Nigerians to see.
Commit to justice for all those injured and the families of those who lost their lives during the #EndPoliceBrutality campaign across the nation.
Give clear-cut responses to demands of the protesters, with definite timelines.
Investigate those who incited criminal elements to disrupt the peaceful protests, attack their fellow citizens and destroy properties.
Government at all levels must allow young people to stand united for the country and desist from using young Nigerians for political gain.
Ene Obi, the country Director of ActionAid Nigeria, called for peace and justice.
"ActionAid Nigeria applauds the tenacity of the young people airing their grievances on rights violations and urgently calls for clear reform plans with timelines and commitments to be drawn up and implemented in collaboration with the critical stakeholders. We also need citizen-friendly security cover so that future protests can take place without chaos and casualties," she says.
"As things stand, decorum should be maintained in order to prevent Nigeria from slipping into avoidable anarchy. Under no circumstances should lethal weapons ever be used to disperse, let alone kill, unarmed peaceful protesters as it is inhuman, cruel and a gross violation of national and international laws."
Julia Sanchez, Secretary General of ActionAid International, says:
"Peaceful #EndSARS protesters have faced deadly force and a horrifying litany of rights violations by Nigerian security forces.
"Citizens' rights to life, freedoms of expression and assembly must be protected. But in Nigeria and around the world, governments are clamping down on civil society and movements demanding change, often using violence in response to peaceful protest and dissent.
"The international community must show support for Nigeria's young people, who are peacefully mobilising, and those responsible for extrajudicial killings must be brought to justice." 
ActionAid is joining with other civil society organisations in calling for:
Immediate release of all those arrested for taking part in the #EndSARS protests over the last few weeks.
Justice for all deceased victims of police brutality and appropriate compensation for their families.
An independent body to be set up to oversee the investigation and prosecution of all reports of police misconduct (within 10 days).
In line with the new Police Act, psychological evaluation and retraining (to be confirmed by an independent body) of all disbanded SARS officers before they can be redeployed.
An increase police salary so that they are adequately compensated for protecting lives and property of citizens.
For the right to non-violent protest to be upheld and ensure the safety of protestors in accordance with the International Bill of Rights, the African Charter on Human and Peoples' Rights and the Constitution of the Federal Republic of Nigeria 1999 (as amended).  
Justice for the families of the victims of recent protests against police brutality.
For the government to Initiate a comprehensive overall reform of the security sector, including incorporating accountability structures and the recommendations from the 5for5 made by Nigerian youth.
Ends.
For more information and interviews contact Jenna.Pudelek@actionaid.org or call +447795642990.