Don't cut women's lifelines, warns ActionAid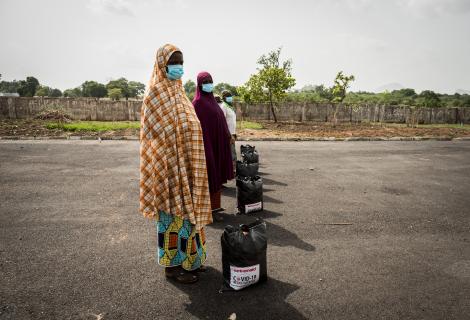 New report shows huge spike in femicide and sexual and domestic violence during Covid-19 pandemic worldwide
Global lockdowns and coronavirus restrictions have unleashed a shocking surge in gender-based violence (GBV) in countries across Europe, Africa, Asia, the Middle East and Latin America, as women's shelters are shut down and countries divert funding to battle the pandemic. 
New research by ActionAid, based on surveys of local support services and women's movements worldwide, also found that domestic violence survivors with live legal cases were increasingly being forced to settle out of court, due to Covid-related court closures. This is increasing community tensions and damaging survivors' ability to rebuild their lives. 
ActionAid's Country Director in Nigeria, Ene Obi, says: "We have never been more alarmed about the violence unleashed on women and girls than in recent times. 
"Girls, women, young and old, are living in fear as they don't even feel safe in their own homes. Due to the pandemic, arrest is no longer enough to serve as a deterrent, as most of these cases are being settled out of court. This means there is no real justice for the survivors and their families."
Key findings from the report, Surviving Covid-19: A Women-Led Response show that: 
In Bangladesh, ActionAid's network of support services, including in the Rohingya refugee camps, found a tenfold (983%) increase in sexual and domestic violence this April to May, compared to the same period last year. 
In Brazil, 143 women were killed across 12 states in March and April this year and had a 22% increase in femicide compared to last year, according to data from security agencies. In the Northern State, Acre, femicide is up 300%.
In Uganda, ActionAid was forced to temporarily shut down 10 of its shelters due to lockdown restrictions, even though the caseloads doubled in March and April 2020 during the outbreak, compared to the prior year.
In the Gaza Strip, an ActionAid partner organisation reports supporting 700% more survivors of GBV through its counselling services this April-May than in 2019. 
In Italy, a review of more than 228 shelters saw the number of women who asked for support through the government's anti-violence hotline increase by 59%. 
In Nigeria, where the government has declared a state of emergency following a sharp spike in cases of femicide and rape, one women's shelter reported a 700% increase in cases of violence since lockdown. ActionAid is calling for a ban on bail and out of court settlements for these brutal cases, following 253 harrowing attacks documented since lockdown. 
The persistent, yet predicable increased rape and murder of women, which happens in any emergency, remains the most ignored and underfunded part of the UN's Global Humanitarian Response Plan (HRP) for Covid-19. Less than 0.3% of the funding needed to protect women from violence has been committed. 
Four years ago, at the inaugural World Humanitarian Summit, the world promised that 25% of humanitarian funding would go directly to local organisations, such as the women's shelters featured in ActionAid's new report. But the UN's global plan for Covid-19 is way off track, with just 0.1% of funding going to local organisations. 
Julia Sánchez, Secretary General of ActionAid International, said:  
"Covid-19 is a health and economic crisis which has also unleashed a horrifying surge in femicide, rape and violence against women and girls. Our research shows this is a worldwide phenomenon, played out with shocking regularity and predictability, and is clearly under-reported. 
"Governments, charities and donors worldwide must respond urgently, to scale up the pitiful levels of funding for women's protection services and local organisations working on the frontline of the Covid –19 pandemic and indeed in all humanitarian crises and disasters.
"Two thirds of the world's health workers are women, yet only a quarter of decision-making bodies for the pandemic are female .This explains why health research doesn't monitor women's specific needs and decisions are being made without women in mind, despite women bearing the brunt of the fallout."
Tomorrow (25 June), as governments, NGOs and donors meet to review the 'Grand Bargain' deal struck at the 2016 World Humanitarian Summit, ActionAid's report warns that the world is 'sleepwalking into the shadow pandemic of global femicide'. The organisation is calling for GBV services like women's shelters and referral pathways to be classified as essential in all countries.
ActionAid is responding to the Covid-19 crisis in 40 countries around the world. Its frontline, women-led services have all reported increases in violence against women and girls since the start of the pandemic. More than 60% of its humanitarian funding goes to local organisations, the majority to women's organisations.
ENDS
For more information and interviews with ActionAid spokespeople and partners contact jenna.pudelek@actionaid.org or jess.midwinter@actionaid.org, or call +447795642990. 
Notes to Editors:
ActionAid Nigeria has called the escalation of violence during Covid 19 'an emergency', following the increase in reported cases of rape and femicide, since the start of the pandemic. Since the lockdown in March 2020, ActionAid Nigeria and partner organisations have documented 253 cases of GBV in Bauchi, Cross River, Enugu, Kebbi and Kwara States.  
At the Ireti Resource Centre, Lagos, 48 domestic violence cases were received in March-April 2020, a 700% increase on the six cases in the same period in 2019. The number of service users has doubled compared to last year. ActionAid partner organisation Attah Sisters Helping Hand Foundation (ASHHF) has seen caseloads almost triple during the pandemic. The team is dealing with a case of rape almost every day, with no government funding. 
ActionAid Bangladesh collaborates with the National Women's Violence and Prevention Forum, formed with the Stop Violence Against Women Network (SVAW), which works across 25 districts in Bangladesh. The forum has documented a shocking tenfold increase in reports of GBV, including domestic violence and rape during the pandemic, with 1,495 cases reported in March-April this year, compared to 138 last year. The number of rape cases in April 2020 is four times higher than in April last year. 
The networks saw a 345% increase in cases of physical violence against women this April. However, network representatives are worried that some cases are still not being reported due to lockdown tensions. The shocking surge in violence is also affecting the Rohingya refugee camps in Cox's Bazar. ActionAid's service to support women in the camps, reports a 28% increase in cases of GBV. 
ActionAid's seven 'safe spaces' have been allowed to stay open in order to continue vital support to women, many of whom are survivors of sexual violence in conflict. Aside from emergency food, water and sanitation, all other activities were suspended.
Sharmin Akhter, a case management officer in the camps says: "Women and girls are trapped in a pressure cage. With men at home all day things are very tense, we have had situations where the wives have been attacked. Small disagreements are turning into major assaults."
ActionAid Palestine's humanitarian response in Gaza and the West Bank is being led by women and young people, who are delivering food support and hygiene supplies to survivors of violence, women-headed households and other marginalised families. 
To keep GBV services running during lockdown and Covid-19 restrictions, programmes have been adapted to create online services, telephone hotlines and socially distanced door to door support. Radio broadcasts are also being used to raise awareness about rising levels of violence and where to find support. 
Wefaq Society, an ActionAid partner in the south of the Gaza strip, reports that the number of women survivors of GBV it provided individual counselling and legal advice sessions to, increased by 700% this April-May compared to last year.
  
Table of results: ActionAid monitored service users and referrals to women's shelters and hotlines across five countries in Europe, Africa, Asia and the Middle East, and compared data from March to May 2020, during global lockdowns, to comparable data from 2019.