COVID-19 crisis: Myanmar's garment workers at greater risk of domestic violence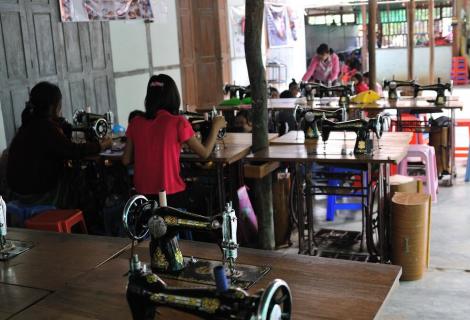 As the UN finds that nearly half the world's workers are at risk of losing their jobs due to the COVID-19 pandemic, ActionAid is warning of the dire situation facing garment workers in Myanmar.
Government figures show that more than 60,000 factory workers in Myanmar have already lost their jobs since the start of the crisis, including those working in the garment factories that supply some of the world's biggest fashion brands, the vast majority of them women.
On International Workers Day, Araddhya Mehtta, Country Director of ActionAid Myanmar, is warning that losing their livelihoods overnight has not only left many workers unable to buy food and access healthcare but is putting women at greater risk of sexual and domestic violence.
"With the factories being shut down, it has meant they have lost their only means of livelihood, that's their lifeline really, for themselves and the families that they support," she says.
"It is the inability to get food, access healthcare, the inability to buy basic essentials.
"But in addition to that, what is very worrying, is that a lot of these vulnerable women, who have already been working under very difficult conditions, are now at heightened risk of gender-based violence because of the lockdown."
As cases of domestic violence increase globally during COVID-19 lockdowns, ActionAid Myanmar is already seeing increases in the number of women reporting incidents of gender-based violence through its support services.
A telephone helpline, run by a team of paralegals, is ensuring that women have access to support and information during the lockdown. Men are also championing gender equality and helping to combat violence against women through a male role model project.
Ms Mehtta says: "Men are part of the solution as much as women are, and they've been incredibly critical at this time."
ActionAid Myanmar is supporting 150,000 garment workers in five industrial areas of Yangon, Bago and Ayeyarwaddy by providing public health information in local languages on how to prevent the spread of coronavirus, follow self-isolation and handwashing guidance.
The organisation is also providing food relief, hand sanitisers and cash transfers to 1,000 of the most vulnerable migrant workers, including single women and pregnant women, whose factories have been shut down.
But more support is urgently needed for the tens of thousands of workers who have lost their livelihoods due to the COVID-19 crisis and protection for those still at work.
Ms Mehtta says: "The worst affected by COVID-19 are the informal workers, the migrant workers, which includes the garment factory workers that ActionAid works with, they are already very vulnerable.
"The vulnerability comes from the precariousness of their jobs, how demanding those jobs are and the conditions within which they have to work and live.
"With dense living conditions, social distancing is often not a viable option. This is compounded by the fear of joblessness and lack of any sort of financial security. It is a very dire situation and the impact that comes with losing their job is they will not be able to feed themselves. It's really as basic as that."
Garment workers whose factories have not been shut down are also at risk during the pandemic. One young woman, who didn't want to be named, told ActionAid: "We have not received any support, not even one face mask per person. We do not even have access to clean water to wash our hands. They told us to take care of hygiene, but they have not given us clean water to use. Everyone is afraid of getting infected by this coronavirus, but our livelihoods are more important than getting the virus. That is why we are still coming to work."
Young women migrate from Myanmar's dry zone and delta region, as traditional livelihoods are lost, fuelled by climate change, to urban areas of Yangon and Mandalay to work in factories.
Left without any income due to the factory shutdowns, they are unable to meet their own basic needs and afford school fees, but also can no longer send money back to support their families in their home villages.
A government social protection programme is offering some factory workers 40% of their salaries while factories are shut down and some have started to reopen with COVID-19 prevention measures in place. But many garment workers remain in a precarious position.
Ms Mehtta adds: "The government's new economic COVID-19 relief package is a good start. But far more support is needed for informal workers and marginalised groups, such as the women garment workers.
"We're deeply concerned to see that there has already been an increase in cases of gender-based violence since the COVID-19 lockdown measures. With workers pushed to the limit with financial pressures, job losses and survivors having to stay at home with abusive partners, women's protection must be part of government response plans."
ActionAid Myanmar spoke to two garment workers about their experiences during the COVID-19 pandemic:
Ma, 31, who works as a tailor, says the factory owner has left Yangon without paying more than 300 workers, who haven't received their salary since January. "With this current situation, we have to be worried about dying from a lack of food first. We just want our salary for the time that we have worked," she says.
A 22-year-old tailor said that her factory is still open, but she is worried it's not safe, with no clean water and no access to healthcare. "Now the coronavirus infection is rising, I heard that everyone needs to stay inside and stay three feet apart from each other," she says. "The rooms we stay in are only six foot by eight foot, with up to six people sharing altogether, so it is not possible for us to do so."
Ends.
For more information and interviews contact Jenna.Pudelek@actionaid.org / +44(0)7795642990 or jess.midwinter@gmail.com / +44 (0)7858436362
ActionAid is a global federation working for a world free from poverty and injustice. For more information visit https://actionaid.org/.
ActionAid Myanmar's COVID-19 response supporting garment workers is funded by the multi-donor Livelihoods and Food security Fund (LIFT) https://www.lift-fund.org/.