Climate migration in South Asia set to treble by 2050 due to political inaction on global warming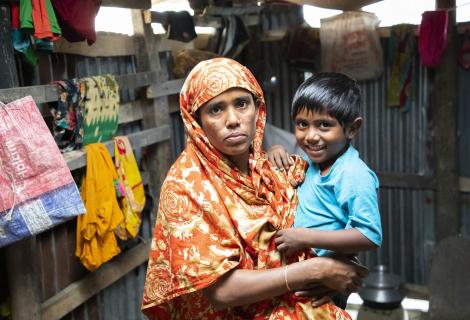 More than 62 million South Asian people will be forced to migrate from their homes due to climate disasters by 2050, according to new research from ActionAid International and Climate Action Network South Asia.
Political failure to limit global warming to below 2°C, as per the Paris agreement goal, is already driving 18 million climate migrants from their homes in 2020. New analysis, released today, estimates climate migration will treble in South Asia alone, a region badly affected by climate disasters including floods, droughts, typhoons and cyclones. 
The research was undertaken by Bryan Jones, one of the authors of the inaugural Groundswell Report on internal climate migration in 2018.
The new research released this International Migrants Day has broadened the analysis to incorporate new drivers of climate migration, which include loss of biodiversity and up to date scenarios of sea level rises and global warming.
The report, 'Costs of climate inaction: displacement and distress migration' assesses climate-fuelled displacement and migration across five South Asian countries, Bangladesh, India, Nepal, Pakistan and Sri Lanka and calculates a devastating likelihood of more than 60 million people being homeless and displaced by 2050 in South Asia alone.
This is almost as many people as are forced from their homes globally due to war and conflict, raising the alarm that climate can no longer be overlooked as a major factor driving displacement. Climate migration could easily surpass conflict as a driving force of displacement if political leaders continue to renege on their commitments to reducing greenhouse gas emissions in line with the Paris Agreement. Communities can be resilient to climate change, slow onset climate disasters, such as sea-level rise, drought, failed harvests and loss of biodiversity, but this takes money and political will.
The new report by ActionAid and partners Climate Action Network South Asia and Bread for the World, calls for strong leadership and ambition from developed countries to cut emissions and support for developing countries to adapt to climate change and recover from climate disasters. It recommends a holistic approach that places the onus on rich countries to provide support and urges developing countries to scale up efforts to protect people from climate impacts.
South Asia is particularly prone to climate disasters and has some of the highest levels of climate-fuelled displacement.
Harjeet Singh, global climate lead at ActionAid, says: "We are facing melting glaciers in Nepal, rising seas in India and Bangladesh, cyclones and inhospitable temperatures: Climate change is increasingly forcing people to flee their homes in search of safety and new means to provide for their families.
"Rich countries need to take greater responsibility to reduce their emissions and support South Asian countries in cutting emissions and dealing with climate impacts. The human cost of inaction is too high".
The research reveals that in all five countries, women are left dealing with the negative fallout from climate migration. They are left behind to take care of household chores, agricultural activities, look after children and elderly and manage livestock. Women who migrate to urban settlements are often then forced to take up work in precarious settings where workers' rights violations are rife.
Rajo, 37, is a mother living in Pakistan's drought affected Tharparkar district and her family have had to migrate three times in as many years.
Rajo says: "Each move has a huge impact on my family. I was seven months pregnant when we migrated to earn money. I worked as a labourer and lifted weight, which caused a miscarriage. We had to borrow money for the medical bills and whilst we were migrating our children got ill and we had to spend all our earnings on their health and travel."
Sanjay Vashist, Director, Climate Action Network South Asia says:
"South Asia is geographically vulnerable to climate disasters and is regularly lashed with floods and cyclones, but poverty and environmental injustice are also determining factors in this climate migration crisis.
"South Asian leaders must join forces and prepare plans for the protection of displaced people. They must step up and invest in universal and effective social protection measures, resilience plans and green infrastructure to respond to the climate crisis and help those who have been forced to move."
ENDS 
Modelling methodology
The modelling is based on a modified version of the gravity-based spatial allocation applied in the Groundswell report. The model projects future changes in the spatial distribution of the population, from which estimates of climate-induced migration are drawn. We enhance the temporal and spatial resolution of the original approach and add to the potential drivers of climate-induced migration by including updated projections of sea-level rise, drought, and ecosystem productivity. Finally, a two-scenario framework is adopted to facilitate assessment of the potential avoided impacts of achieving a future consistent with the Paris Agreement.
This allows us to assess the avoided impacts of achieving a future in line with the Paris Agreement (limiting warming to ~1.5°C) as opposed to a potential high-end temperature warming scenario of 3.2°C by 2100. To do so, we use the Representative Concentration Pathways (RCPs) and Shared Socioeconomic Pathways (SSPs). The climate forecasts are based on two scenarios; a lower and moderate emissions scenario. The lower emissions scenario is a world in which temperatures peak at 1.0 - 2.2°C above pre-industrial levels by mid-century and then stabilize through the end of the century (IPCC 2014).