Climate Ambition Summit: 'Glaring gap' in support for Global South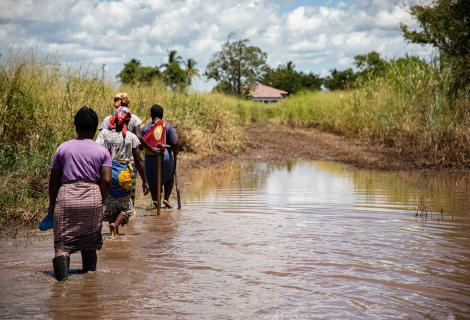 Climate pledges announced the Climate Ambition Summit, co-hosted by the UN and the UK on the fifth anniversary of the Paris Agreement, overlook the devastating loss and damage already being caused by the climate crisis.
It comes as new analysis by ActionAid finds that by ending G7 fossil fuel subsides by 2026 could create $101 billion to support the world's poorest countries recover and build resilience to climate disasters.
Harjeet Singh, global climate lead at ActionAid International, says:
"Dismal levels of new support for developing countries to adapt and recover from climate disasters is a glaring gap in the announcements at the ambition summit.
"A disproportionate focus on emission targets, which are still falling short of what's needed to keep warming below 1.5C, overlooks the devastating loss and damage already being caused by the climate crisis. 
"To show true ambition, climate pledges must include finance to tackle climate impacts and to support developing countries transition to greener economies."
Teresa Anderson, climate policy coordinator at ActionAid, adds:
"The planet is crying out for courageous plans. But all we're getting are incremental improvements and 'net zero by 2050' pledges that delay action and heavily rely on carbon offsets, instead of the transformation needed to avert catastrophic climate change."
Loss and damage: Support is needed for countries already facing extreme impacts of climate change. The latest research projects that the cost of loss and damage in least developed countries will total between $290 billion and $580 billion by 2030.
New analysis by ActionAid International shows how G7 countries can provide $101 billion by 2026 to tackle loss and damage by fulfilling their commitment, made in 2016, to end inefficient fossil fuel subsidies by 2025.
The analysis is based on accelerating current levels of subsidy reductions (to meet the 2025 commitment to end inefficient fossil fuel subsidies) and a rate of return of 5%, to create a new Climate Damages Fund. This would go some way towards covering the soaring costs of loss and damage. 
Despite the economic bloc's commitment to end fossil fuel subsidies, it is still pumping $87.7 billion a year of support into the polluting industries. France and Canada have actually increased fossil fuel subsidies since signing the Paris Agreement.
Ends.