African leaders urged to mobilise debt strike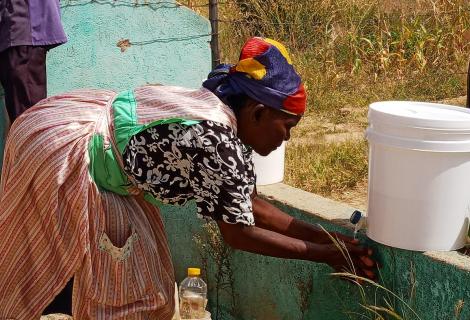 New ActionAid research outlines measures to secure $1 trillion for COVID-19 crisis in the Global South
Johannesburg, 14 April 2020 – On the eve of G20 Finance Ministers grappling with the biggest economic crisis in generations, ActionAid is calling for unprecedented collective action from African leaders ahead of the International Monetary Fund (IMF) and World Bank virtual Spring meeting, urging them to proactively agree a debt strike.
New research by the global social justice organisation reveals how a new debt crisis has left health systems in Africa vastly underfunded and ill-prepared for the pandemic, with debt servicing far outstripping spending on health. ActionAid recommends a series of costed measures which could secure a cash injection of almost $1 trillion to tackle the immediate needs of the COVID-19 crisis. 
Congo Brazzaville is spending five times as much ($1.4bn) on foreign debt repayments as on health ($259m). Despite the late arrival of coronavirus in Africa, its average ratio of deaths to cases is already higher than Italy, Spain and the US.
Kenya, which spent 36% of GDP on debt servicing in 2019, would have an additional $4bn to spend on public services if its external debt payments were suspended. 
ActionAid's COVID-19 response recommendations could amount to a cash injection of $800 billion to avert a looming health and economic crisis by calling for:
•    Global South leaders to collaborate on a debt strike to afford progressive stimulus packages aimed at protecting people not corporations. This would immediately free up $50.4 billion for low income countries. 
•    A one-time aid boost through the world's richest countries committing long promised but undelivered overseas development assistance (ODA) totalling $500billion, for a COVID-19 emergency fund for low income countries. 
•    Member states of the IMF should approve an emergency allocation of 3 trillion Special Drawing Rights (SDRs) to keep weak economies afloat, as agreed after the financial crash of 2008. The proposal would put $250 billion at the disposal of African Central banks. 
Julia Sánchez, Secretary General of ActionAid International says: "Both the coronavirus pandemic and the ongoing climate crisis have revealed a deeply flawed global economic model that puts the profits of corporations before people and the planet. 
"Africa is being crippled by a new debt crisis. With the looming threat of COVID-19 fast become a reality, developing countries can't wait for international processes to decide on debt relief. Unprecedented collective action is needed to immediately free up cash to tackle this urgent health emergency." 
ActionAid's new research shows how several countries - Kenya, Ghana and the Gambia – are spending more than three times as much on external debt repayments than on health*. 
By working together to declare a debt strike and immediately suspending payments, finance ministers would gain access to money already in their treasuries to respond to COVID-19. 
Ghana has one of the highest debt servicing costs in the world, at 59% of GDP, spending $4.1 billion on foreign debt payments compared to $1.3 billion on health. An emergency external debt suspension would enable Ghana to double its 115,650 health-workers and still have $1 billion left over. 
This data comes from ActionAid's new report, Who Cares for the Future: Finance gender responsive public services! which exposes the detrimental IMF loan conditions and austerity measures which have pushed 80% of low-income countries to plan for zero increase in public sector wages.
When countries are told to contain wage bills it means fewer doctors, nurses and frontline health workers in countries already desperately short of medics, the report finds. Two countries worst affected by Ebola – Sierra Leone and Guinea-Conakry - have IMF programmes that project a decline in health budgets. 
ActionAid's research goes on to outline how, after the COVID-19 recovery period, low income countries can double social spending by increasing their tax to GDP ratios by one percentage point each year. The report recommends how tax systems can be strengthened in a progressive way so that the wealthiest individuals and companies contribute to guaranteeing public services for all. 
Sánchez adds: "Women are on the frontline of COVID-19, as health workers, carers, home schoolers and informal workers. Without decent public services, women will continue to bear the brunt of this and future crises. As we start building economies that care for both people and the planet, women's voices and needs must be heard."
ActionAid has costed how developing countries can afford to rebuild health, education and social protection systems ravaged by decades of austerity, to create free, fair and equal public services that liberate women from the burden of unpaid care work. 
The organisation estimates that if the report's recommendations were implemented, it would reduce the amount of time that women spend on unpaid care and domestic work globally by nine billion hours every single day by 2030. 
Ends.
For more information and interviews contact Jenna Pudelek in the ActionAid press office on +44(0)7795642990 or email jenna.pudelek@actionaid.org. 
Notes to editors: 
Additional details are available in the Covid-19 action plan media briefing.
Download free to use multi-media content on community awareness raising and emergency distribution. 
About ActionAid 
ActionAid is a global federation working for a world free from poverty and injustice.
ActionAid is responding to the COVID-19 crisis in countries hardest hit and countries most vulnerable. 
Wage bill containment: ActionAid's research found that the IMF holds down public spending by imposing unnecessarily low inflation targets (in 80% of countries). It also imposes strict deficit targets (in 96% of countries) even where there is a compelling case for countries to spend more on public services. And most worryingly the IMF advises a freezing or cutting of public sector wage bills (in 78% of countries) which actively prevents countries from employing more teachers, doctors, nurses or care workers. Even where the IMF makes exemptions for health and education spending, the effect is a usually a freeze, which is deeply problematic for countries with desperate shortages of teachers and doctors. 
Five Principles for responding COVID-19: ActionAid is calling on leaders in the global south to ensure these principles are part of their countries' response to the pandemic: 
1.    Properly finance public health and other vital public services (including re-nationalising health care providers and ensuring informal workers can access health care). 
2.    Response and recovery plans must not reinforce gender inequalities.  ActionAid's new report shows how the global economy relies on women's unpaid care and domestic work – which will rise exponentially during the COVID-19 pandemic. Response and recovery packages must provide women with income support and special measures to protect them from gender-based violence. 
3.    Break the cycles of inequality. Focus on youth as the victims of debt and the gig economy; cash transfers to workers in the informal sector; minimum basic income as required; support for small-holder farmers.
4.    Bail out workers and families, not shareholders (and ban bonuses and buy backs).
5.    Restrictions on civil liberties must be proportionate and temporary. ActionAid is extremely concerned about lockdowns interfering with democratic processes as in Hungary, inciting police brutality as in Kenya and South Africa, and being used as an excuse for increased online surveillance as in Thailand. 
Limits on freedom of movement, freedom of assembly, privacy and democratic process in the context of Covid-19 must be clearly set in law, non-discriminatory, temporary and proportionate to the risk to life. They must not be extended beyond the pandemic or be mis-used for other purposes. We will be tracking this across 20 countries.