ActionAid congratulates Joe Biden and Kamala Harris on being elected President and Vice President of the USA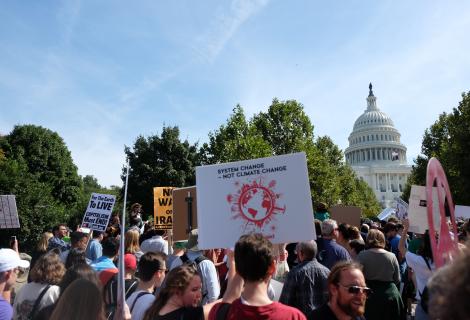 ActionAid congratulates Joe Biden and Kamala Harris on being elected the next President and Vice President of the United States of America. 
After a tense and tumultuous election season, Joe Biden is elected 46th President with more than 74 million votes so far – the most ever for a US presidential candidate. 
Kamala Harris makes history as the first woman, and woman of colour to be elected Vice President. 
Niranjali Amerasinghe, executive director of ActionAid USA, says:
"As a tumultuous election season draws to a close, we breathe a sigh of relief that our democracy is still intact, flawed and fragile as it may be, and despite consistent attempts to undermine it. But the work for justice continues. Regardless of who sits in the White House, there's going to be an incredible need to shift power towards communities and away from elites, and to build towards a just, equitable, and sustainable future.
"Our society is built to uphold systemic racism, patriarchy and economic inequality, no matter who's in charge. President-Elect Biden's win signals an opportunity to push for a new social contract. We need a government that responds with justice and compassion to the COVID-19 crisis, takes aggressive action to address climate change, provides real solutions for family farmers, and protects Black, Indigenous and other marginalized communities."
Julia Sánchez, secretary general of ActionAid International, says: 
"This result gives us hope in the power of democracy to overcome authoritarianism. It is a testimony to the power of grassroot movements and the millions of people who mobilised to deliver the highest number of votes and voters ever in an American election.   
"It is why ActionAid is committed to be being an effective ally and to grow movements from the ground up to lead the charge against injustice and inequality globally. 
"We celebrate this historic moment as Kamala Harris becomes the first woman and woman of colour to be elected Vice President, demonstrating how racial and gender barriers can be broken and giving young people of colour the chance to see someone who looks like them in one of the most powerful positions in the White House. 
"This result is a vital boost for global struggles against poverty, inequality, injustice, discrimination and the climate crisis. Now the work begins and the fight for a just, green and feminist global recovery from Covid-19 continues." 
ENDS.
For more information and interviews, contact Sophia Har, communications manager at ActionAid USA at +1 651 815 1818 or sophia.har@actionaid.org. Or Jenna Pudelek, media manager at ActionAid International on jenna.pudelek@actionaid.org or +447795642990.