Young people at UN Climate Summit embarrass world leaders for lack of leadership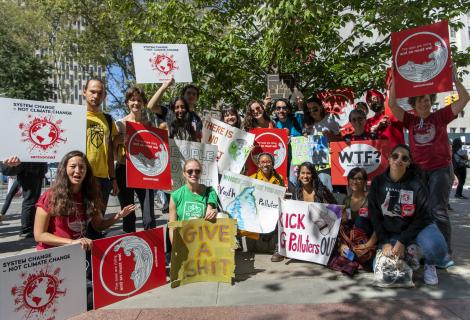 ActionAid has expert spokespeople available for interviews
 
NEW YORK, 23 September 2019 – As the UN Climate Summit draws to a close,  Harjeet Singh, ActionAid's global lead on climate change, said: 
"Young people have exposed the shameless lack of leadership from heads of state, who have looked the other way for decades, as the climate crisis has escalated and the planet burned. 
"This Summit was supposed to be a turning point. But we have seen an exceptional lack of commitment from the biggest and richest polluting countries that continue to take trivial measures toward solving a life or death crisis.
"Rich countries need to take greater responsibility for the mess they have made.
"The UN Secretary General urged world leaders to rise to the challenge and take bold action to ensure a safe future. But the countries that have responded with the most concrete actions are the ones most vulnerable to climate impacts.
"At this late stage when the window of opportunity is shrinking, we need leaders to show courage, not cowardice." 
ActionAid spokespeople at UNGA: 
Harjeet Singh is ActionAid's global lead on climate change. He specialises in the impacts of climate change on the Global South, including migration and urgent need for climate finance. He is on the board of the Climate Action Network (CAN) and coordinates the working group on adaptation and loss & damage. Harjeet will be analysing outcomes from the UN Climate Action Summit. He speaks English and Hindi. Follow him on Twitter @harjeet11.
Teresa Anderson is ActionAid's climate policy coordinator. She leads ActionAid's climate policy work on land, food and agriculture. She coordinates the Climate Action Network (CAN) working group on agriculture. She will be analysing outcomes from the Nature Based Solutions workstream at the Climate Action Summit. Follow her on Twitter @1TeresaAnderson.
Brandon Wu is ActionAid USA's director of policy and campaigns. He leads work on international climate justice, approaching the problem of climate change from the perspective of sustainable development and the rights of impacted people. He specialises in climate finance for developing countries, fairness and equity in the global climate regime, and energy democracy in the Global South. Brandon recently completed a two-year term on the governing board of the Green Climate Fund. Follow him on Twitter @brandoncwu. 
Read more about Nature-based solutions at: https://actionaid.org/news/2019/actionaid-briefing-explaining-nature-based-solutions 
More on ActionAid at UNGA at www.actionaid.org/climatejusticenow. 

Contact: kate.donovan@actionaid.org  Cell: +17183620606
ActionAid:
ActionAid is a global movement of people fighting for women's rights, social justice and an end to poverty. For more information visit www.actionaid.org