We demand fossil free politics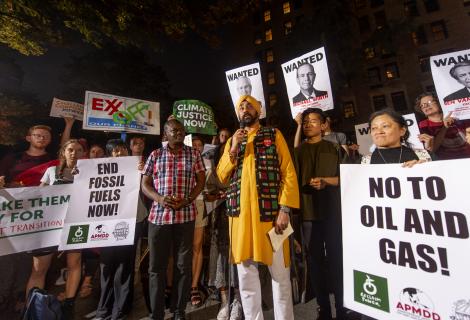 ActionAid has joined a coalition of almost 200 civil society organisations to demand fossil-free politics. 
We are facing a climate emergency, created by the fossil fuel industry. Communities are already feeling the impacts of climate chaos with record storms, droughts and fires - hitting the global south especially hard. 
Specifically, we are calling for our political institutions to:
1. Institute a firewall to end fossil fuel industry access to decision-making: no lobby meetings; no seats in expert and advisory bodies; no role in governmental research bodies.
2. Avoid conflicts of interest of decision makers: no revolving door between public office and the fossil fuel industry; no industry side jobs or placements; no hiring of industry consultants.
3. End preferential treatment of the fossil fuel industry: no involvement in climate negotiations; no place on government delegations to international negotiations or trade missions; no more subsidies or incentives for fossil fuel related activities.
4. Reject partnerships with the fossil fuel industry: no sponsorships or partnerships; no sharing platforms with industry representatives; no hosting or attending or industry events; no party or candidate donations.
You can read the full statement and view a full list of signatory organisations here.