Six years on from Bangladesh's Rana Plaza tragedy, one in five survivors' health is deteriorating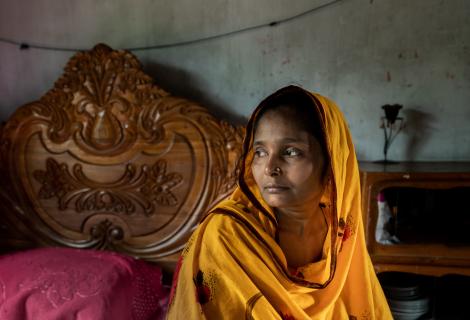 Despite the international outcry following the building collapse at Rana Plaza, which killed 1,134 mainly female garment workers, more than half of survivors remain unemployed due to the physical injuries and psychological impact of the disaster. The unemployment rate among the survivors has increased almost 10% in the last two years, according to an annual survey of survivors' health, wellbeing and economic security, published by ActionAid today.
The charity, which provided emergency relief following the tragedy and campaigns on women's rights in the labour market, has tracked 1400 Rana Plaza survivors since 2013, interviewing 200 of them this year and found:
20.5% said that their physical health condition is getting worse;
51% remain unemployed due to their physical injuries and poor mental health;
Of the unemployed survivors: 74% could not get back to work due to physical injuries and 27% due to poor mental health - as a direct result of the incident;
10.5% are still suffering from trauma;
Only 15.5% of the employed survivors have returned to the garment industry.
Rana Plaza was the world's deadliest industrial accident since the Bhopal gas leak in India in 1984, yet Bangladesh remains the world's second-largest exporter of fast fashion to Europe and the US. Under the radar of international attention, around 500 workers have been injured and several dozens killed in Bangladesh's garment industry since Rana plaza.
ActionAid Bangladesh has long campaigned on the working conditions in the garment industry, where the majority of the four million workers employed are women from rural villages who are not literate and have historically been prevented from unionizing, remaining the lowest paid workers in the world.
Women make up the lowest grade positions in the garment industry with only 0.5% of management positions being occupied by women. These women lack job security, compensation for injuries sustained at work, pension and insurance. Worse still, a growing body of evidence more recently shows female garment workers suffer regular sexual harassment and abuse at work.
Yet these four million workers are producing a US$30 billion industry for Bangladesh, with ready-made garments comprising 83.49% of Bangladesh's exports. Although global inequality is played out on the factory floors. ActionAid's 2010 research from India showed that a worker in a factory would earn less than 2 cents for every $5 T-shirt sold internationally.
Some progress was made following the international pressure after Rana Plaza, when corporate brands were pushed to sign a legally binding agreement to ensure retailers and factory owners comply with safety inspection standards. The Bangladeshi government also updated its Labour Act to compel companies to establish "employee welfare funds" and end the human rights breaches which saw workers being prevented from forming unions. Yet Western brands continue to use subcontracting to foster a degree of separation from liability for wage and labor violations.
Farah Kabir, Country Director of ActionAid Bangladesh, said:
"Today's new research from ActionAid shows that survivors still remain economically insecure as a result of the Rana Plaza tragedy. Compensation is piecemeal, which has slowed down the rehabilitation of the injured. Promised funding for a hospital for the injured has not been forthcoming. Six years on from the crisis, injuries which may have been treatable have now set in as life-long ailments."
ActionAid, part of the Clean Clothes Campaign, is calling for the government of Bangladesh to establish and legislate for an employment injury insurance system, which would mean compensation would be distributed immediately following a workplace incident.
Without this, victims have to wait until brands cave in to public pressure and offer a compensation slush fund, paid in small installments, as happened with Rana Plaza - which prevents fast and effective recovery. The ramifications of this current system are still being painfully felt by every injured survivor.
ActionAid's women's labour movement is also campaigning to improve purchasing practices of buyers from developing countries, and the charity offers education and collective bargaining training to women who are marginalized within the workplace.
Brands agreed six years ago to clean up their act on health and safety. But for the garment sector to be future proof, these women need a broader level of protection than just building safety, they also need to be safe from sexual harassment and abuse at work. To address the high prevalence of Gender Based Violence (GBV) increasingly revealed to be perpetrated against women at work, ActionAid and partners are also demanding the International Labour Organisation (ILO) agree a convention against violence and harassment in the workplace.