Climate-induced migration may result from disasters like Cyclone Fani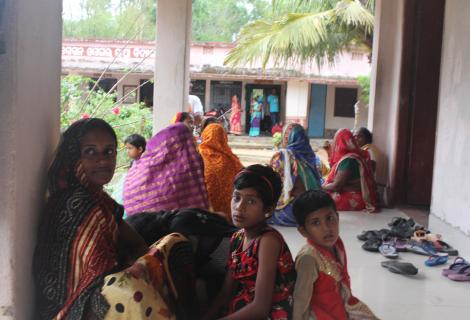 Charity underscores to need to focus prompt humanitarian response on the most vulnerable
Cyclone Fani made landfall near Puri, India, early this morning (Friday), sparking an evacuation of nearly a million people from coastal regions. Heavy rains and high winds continue to threaten the lives and livelihoods of residents of Odisha state on India's east coast, currently being deluged by heavy storms.
Because Odisha is so prone to cyclones, over the last two years, ActionAid Association India has trained more than 1,540 women to be humanitarian first responders, and prepared disaster contingency plans for 35 villages of Jagatsinghpur and Ganjam districts of Odisha. These female-led teams from the affected communities know who is the most vulnerable and where they live. They are on the frontline of the emergency alert systems and are best placed to decide what's needed in any response. Since the Super Cyclone hit Odisha in 1999, ActionAid Association has trained around 4,000 men and women in disaster risk reduction.
Radio Namaskar, a community radio station and ActionAid Association India partner in Puri, broadcasted a cyclone warning to 700 villages within a 35km radius of the affected zone over the last week. They announced the locations of existing cyclone shelters and safe places and participated in community evacuation processes.
Debabrat Patra, ActionAid Association India's Regional Manager in Odisha, who is present at the site of the cyclone, said:
"In Puri, evacuees are sheltering in a nearby school, but with only two toilets being shared by 500 people, this accommodation is woefully inadequate.

"We must prioritize the most vulnerable – those with disabilities, older people, children, pregnant women and anyone with serious illness. Rescuers must aim to reach them first for evacuation, relief and rehabilitation. We also need to ensure everyone has food, clothing and basic services such as toilets.

"Women sheltering in the high school in Puri have said that the government should move beyond short-term measures. They want to be permanently re-homed somewhere safe. These villagers were from Tandahar and have been displaced four times already during cyclones. They are very tense because their livelihoods have been lost and they've left behind all their belongings."
It's now six years since Puri was battered by Cyclone Phailin, following which ActionAid offered extensive relief and ran programmes to restore people's livelihoods.
Preparing women in an emergency is the best way of ensuring the whole community is alerted, ready for evacuation and understands where and how to seek help during and after a disaster.
But more must be done to ensure survivors of disasters are protected in the long term, after the storms have passed. ActionAid is extremely concerned that following Cyclone Phailin, subsidies promised to replace fishing boats and nets lost in the disaster are still yet to be disbursed. Housing compensation, promised to people with disabilities affected by the storms, has also not been fully rolled out.
ActionAid is calling on the Government of Odisha to ensure rehabilitation packages reach the most vulnerable, as promised, within six months of a disaster. With these efforts we would be able to see the complete reduction of disaster risk and disaster-induced migration.
Editors' notes