Brandon Wu - Climate strikes offer hope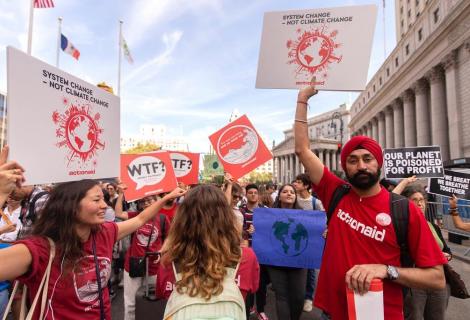 It's easy to feel hopeless in the face of the climate emergency. The scale and pace of change required to solve the crisis is incredibly daunting. It's become something of a recent fad for journalists to write articles lamenting that it's too late, we're all doomed, and we might as well give up now.
Two years ago Nathan Thanki, the coordinator of the Global Campaign to Demand Climate Justice, wrote a must-read succinct response to all of those articles. And after yesterday, we have a new response: our youth are discovering the power of collective action.
According to our friends at 350.org, an estimated 4 million people, across 5,800 actions in 163 countries, took part in Friday's global strike for climate action. The images are stunning. Yesterday was certainly the largest single day of action on climate in history.
But there have been plenty of mass protests before. Just five years ago in New York City, over 300,000 people took part in the People's Climate March. Yesterday's strike – with a similar number of people in the same city – felt notably different. To my eye, wandering the streets, a huge number of the participants, perhaps even half, were school-aged children.
While the New York public school system allowed students to be excused to attend the strike, I didn't see any kids who were there just to take advantage of a free day off from classes. All of them had homemade signs, creative chants and songs, and were clearly there because they cared about their future.
They came bearing not just environmental messages, but climate justice messages. They understood the intersectionality between climate, economic, racial, and other forms of injustice. Many of them happily carried ActionAid signs about the global injustices of the climate crisis, demanding that rich countries do their fair share of climate action.
There is some evidence that protests work in part by changing the protesters: that a successful action can empower, activate, and radicalize participants into becoming a more dedicated and effective activists for social change. If that's the case – if yesterday hundreds of thousands of young people discovered their power in the streets of New York, and indeed around the world – I'm significantly more hopeful about our future than I was two days ago.
Brandon Wu is Director of Policy and Campaigns for ActionAid USA