ActionAid Cambodia launches appeal to plant 100,000 mangroves – after coastline sees 62% loss of vital defence against climate change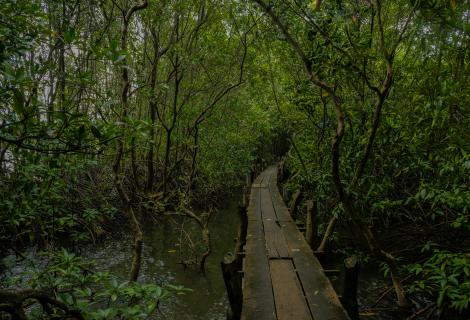 Communities in Kampot province are coming together to launch an appeal to plant 100,000 mangroves to protect their livelihoods and create a vital natural defence against climate change. 
Mangroves, along with coral reefs and seagrasses, play a huge role in maintaining the balance of coastal ecosystems by absorbing carbon dioxide, protecting shorelines from floods and soil erosion, and as a nursery to sea life. 
But they are being lost at an alarming rate to coastal development, shrimp farming, mining, dredging and agriculture. The provinces of Kampot and nearby Kep have seen their mangrove forest reduced by more than half (62%) since 1992*. 
ActionAid Cambodia and partners are working with eight community fisheries and the provincial fisheries administration to restore Kampot's mangrove forests and marine resources. 
The area, along with Cambodia's other coastal provinces, is increasingly popular with holidaymakers and of great interest to investors. 
ActionAid Cambodia and the communities are calling for: 

•    Support to plant and protect mangroves
•    Development projects to avoid impacting agricultural land, fisheries, mangroves, waterways, marine biodiversity and conservation areas. This will ensure communities' livelihoods and the environment are protected.
•    Environmental impact assessments to be made public with meaningful consultation and consent from affected communities before any development.  
 
Boramey Hun, country director of ActionAid Cambodia, says: 
"We hope that through our campaign to plant 100,000 mangroves we will bring together fishery communities to protect the coastal ecosystem and enrich it for future generations. 
"The huge benefits of mangrove forests in protecting against climate change and storing carbon dioxide are now well documented. Cambodia must lead the way in conserving and restoring our coastline for sustainable biodiversity, eco-tourism and resilient livelihoods."
Ends.
Notes to editors: 
*In 1992, there were 7,900 hectares of mangrove forest in Kampot and Kep provinces, according to the Mekong Commission report. Last year, just 2,971 hectares remained, according to information from the fisheries department. 
These images depict a trip along the coast to Trapeang Sangke village, where many residents' incomes rely on fishing and depend on the mangrove forest which acts as a nursery to sea life.
Some villagers are moving away from traditional livelihoods like fishing because some parts of Kampot's mangrove forest have been filled with soil to make way for new ports like Kep Thmey.
These families now work in construction or garment factories, or migrate to find work in Thailand or Malaysia. 
The 100,000 mangroves campaign is organised by ActionAid Cambodia in collaboration with CWDCC, SAMAKY, and eight community fisheries: Trapeang Sangke, Kampong Samaky, Trapeang Ropov, Prek Thnout, Kep Thmey, Toteung Tgnai, Koh Kreosna, and Lok.
ActionAid Cambodia works with partners to support the community fisheries network in Kampot to promote their rights to land tenure security and food sovereignty. The community's role in co-management of natural resources is strengthened by protecting the fisheries community boundary, increasing ecological resources, and diversifying natural resources to improve and sustain people's livelihoods.