Southern Africa food and climate crisis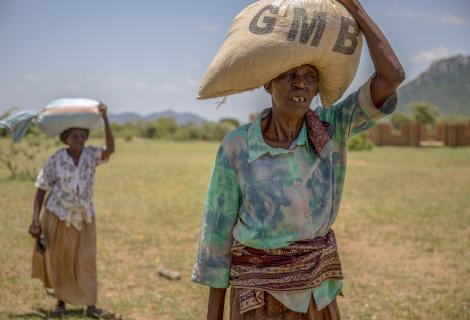 ActionAid is responding to the food and climate crisis in Mozambique, Malawi, Zambia and Zimbabwe, where 9.5 million people are facing severe hunger after two major cyclones, erratic rains, flooding and the worst drought the region has seen in 35 years. Shockingly across the Southern Africa region, 45 million people are facing severe food insecurity. 
We are distributing life-saving food supplies and supporting women to set up protection spaces, in response to a surge in incidents of gender-based violence.
Speaking after recent visits to Zimbabwe and Zambia, where recent rains and flash flooding have not alleviated fears for a poor harvest this April, Sara Almer, ActionAid's humanitarian director, says:
"Millions of people are facing starvation and in areas of Zimbabwe and Zambia, the food crisis is at risk of deteriorating into a famine," she says. "Urgent humanitarian relief is needed across the region."
 
---
Zimbabwe
Ongoing economic turmoil, prolonged drought, flooding and a devastating cyclone have culminated in a multifaceted hunger crisis in Zimbabwe.
Nearly 40% (3.6 million people) of the rural population is experiencing 'crisis' and 'emergency' levels of hunger, which are just below famine on the humanitarian scale used to measure the severity of food insecurity.
Recent flash flooding has washed away many of the crops planted by farmers and nearly a year after Cyclone Idai, one of the worst extreme-weather disasters to hit the southern hemisphere this decade, communities in Chimanimani and Chipinge remain without basic, permanent shelter.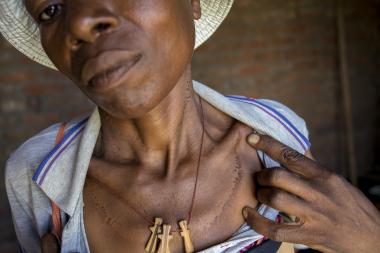 ActionAid Zimbabwe is implementing a humanitarian food assistance programme, funded by the World Food Programme (WFP), in Makoni, Nyazura, Chiendambuya, Saunyama, Nyamaropa and Nyanga. This will provide urgent food support to 92,000 people by the end of January.
Nelia Bvuma, a mother-of-two from Makoni district, told ActionAid in December that she hadn't had a proper meal for the past two years. Her family has been surviving on seasonal wild fruits due to severe food shortages caused by years of drought.
Once a prime agricultural region, crops have been failing and the last time Nelia was able to harvest her field was in 2017, which produced just six bags of maize. Since then she has been forced to forage for masekesa and makwakwa, wild fruits usually only fed to animals.  
Eating wild fruits and taking antiretroviral drugs for HIV on an empty stomach, is taking its toll on Nelia's health. "The excessive intake of these fruits has affected by health and my skin has been peeling off," she says.
---
Zambia 
Amar Nayak, roving global humanitarian adviser for ActionAid's International Humanitarian and Resilience Team (IHART), has been meeting with affected community members in western Zambia.
"Zambia is facing an unprecedented food crisis. More than 2.3 million people are affected and at least 430,000 people are experiencing severe food insecurity described as just one level below famine," he says.
"Families are surviving by reducing the number of meals they eat a day, which is already leading to high levels of malnutrition."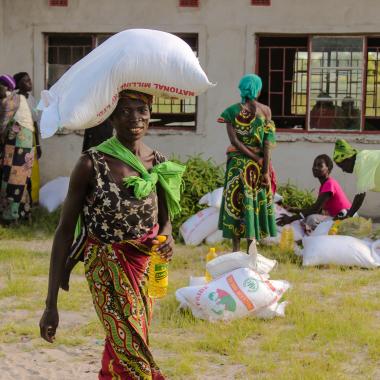 Earlier this month, ActionAid Zambia, in collaboration with its local partner, Keepers Zambia Foundation, distributed maize and beans to families in Nalolo district. The food support was targeted at the most vulnerable, including disabled people, older people, single and pregnant women.
Across the region, desperate families are using harmful crisis coping strategies to survive, including foraging for wild fruits, which is making people sick.
Amar spoke to women who are going without food so that their children can eat. They also reported an increase in domestic violence. As well as food aid, ActionAid Zambia and our partners have set up local women's groups, which are creating their own safe spaces where these protection issues can be discussed and addressed.
In the longer term, ActionAid is building communities' resilience to climate disasters by training women and young people to take leadership roles during emergencies and hold decision-makers to account. We are also supporting smallholders to adopt climate-resilient agro-ecological farming techniques.
Mwendabai Uyoya, 75, has two children and six grandchildren. Due to increasing hunger in her village, the family eats just once a day, sometimes they skip meals and have gone days without food.
When they do eat, Mwendabai says they eat wild plants such as callaloo, wild mushroom, wild fruits known as mukasa and zita roots. They travel for five hours to find food. There is no water in their village because the borehole has dried up, they have no choice but to drink from shallow wells mostly used by animals. As a result, children are beginning to experience water-related illnesses.
---
Malawi
Estimates suggest that more than 6.5 million people are facing chronic hunger, with more than 8 million in urgent need of food assistance, according to the Malawian government's Department of Disaster Management Affairs.
Severe drought has left the country short of one million tonnes of maize, leading prices to soar.
Earlier this month, communities in Phalombe were hit with strong winds and heavy downpours that led to flash floods. River water swept through fields and villages, destroying houses and washing away crops. Some 4,000 families are affected, with some sheltering in schools or at relatives after losing their homes.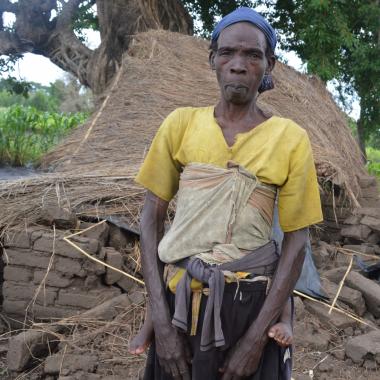 Emery Kachingwe, 61, from Mwaramwe village, saw her home and crops destroyed by flooding. She says: "This hunger will now continue beyond this season. I will need more food support to sustain myself and my grandchildren." 
Floods have also hit Nsanje district. ActionAid Malawi is responding to the floods and food crisis by distributing food, supporting women and girls to set up safe spaces, and build resilience through climate-resilient agroecology projects.   
---
Mozambique
Drought, flooding, insecurity and the impacts of an unprecedented two cyclones, Kenneth and Idai, have left 2.5 million people in urgent need of humanitarian support. As the one-year anniversary of Idai approaches this March, more than 500,000 people are still living in damaged homes.
Twenty-eight people died in recent flooding in Sofala and Zambezia, where many families are still living in makeshift shelters. More than 10,200 homes were destroyed and several bridges damaged. Buzi remains cut-off due to limited road access.
Gaspar Sitefane, country director at ActionAid Mozambique, says: "We are in a situation where the problem is no longer just droughts, or floods, it's about people dying because of the effects of climate change.

"The first step is of course to support people affected by the food insecurity crisis and those who lost their homes, but there is a need for a wider reflection on how we can change the situation longer-term to improve the resilience of communities facing those challenges."
ActionAid Mozambique is continuing to support nearly 10,000 people in communities devastated by Cyclone Idai, through protection, education, livelihoods, resilience and accountability activities.
---
How ActionAid is responding
ActionAid and our local partners are on the ground in Mozambique, Malawi, Zambia and Zimbabwe, distributing life-saving items including food and water purification tablets, plus critical items for longer term health, such as safe sanitary products and hygiene kits. We are also supporting women and girls to create their own safe spaces where they feel physically and emotionally protected.
But the situation is worsening rapidly, and funding is urgently needed to protect more people's lives and their livelihoods. 
In the longer term, ActionAid is building communities' resilience to climate disasters by training women and young people to take leadership roles during emergencies and hold decision-makers to account. We are also supporting smallholders to adopt climate-resilient agroecological farming techniques. 
---
News and stories 
We're sharing news, stories, images and videos from the communities impacted by the food and climate crisis across Southern Africa.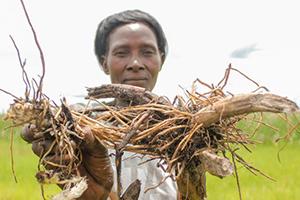 10 January 
Urgent food supplies are needed to reach families facing hunger crisis in Zambia.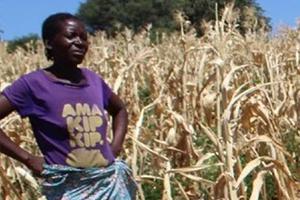 20 December
As rich countries shirk responsibility for the climate crisis, families in Malawi are boiling mangoes to survive.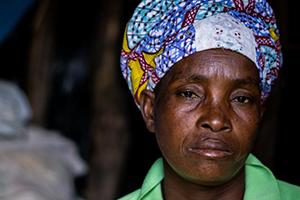 2 December
Severe drought hits Mozambique months after devastating Cyclone Idai.