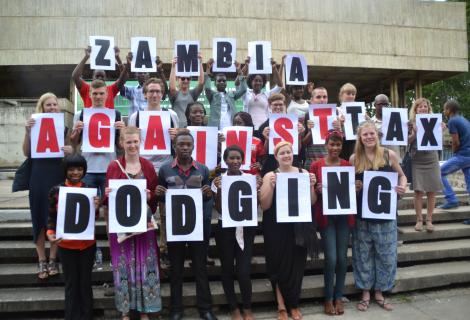 Attacks on Civic and Democratic Space: Strategies and Lessons from ActionAid's Response
Downloads
In the name of "development" and "need to protect national sovereignty" we are witnessing many governments (in the North and the South) are suppressing dissenting voices within civil society by enacting a range of restrictions on the freedom of assembly, expression and association, harassing and demonizing human rights defenders and criminalizing dissent through expansive anti-terrorism laws. Increasingly, the ability of CSOs to register, operate and/or access funds is declining rapidly. This extends to the workplace where we see denial of the right of association: workers' and employers' organizations are illegally suspended or interfered with, and in some extreme cases trade unionists/labour rights defenders are arrested or killed.
 
According to data collected by Front Line Defenders in 2018, these HRDs were nearly three times more likely to be assaulted than defenders working in other sectors. Further, over 1600 attacks on defenders working on businesses-related human rights abuses took place from 2015-2018 according to the Business and Human Rights Resource Centre.
 
Electoral processes with widespread barriers to civil and political rights are becoming the norm. This has seen: unlimited and uncontrolled bans on protests or demonstrations against election results; and internet/social media shutdown. There is a tendency by incumbents to use their absolute majority in parliaments to invoke constitutional amendments to repeal constitutionally set age and term limits for presidents. Elections in some countries have been turned into platforms for xenophobic, racist and misogynist voices, or used as excuses for full-on crackdowns against HRDs who were systematically silenced.
 
Multilateralism, especially the international human rights agreements and institutions, is under threat as indicated by funding cuts or arbitrary withdrawal from global agreements. This has been attributed to the rise of unilateralism, isolationism, authoritarianism, populism and protectionism- ideologies that seek to suppress the principles upon which the United Nations was founded. Ultra conservative actors, state and non-state, are targeting the systems established to protect human rights using arguments based on extreme interpretations of religion, culture, and tradition, and rhetoric linked to state sovereignty, to justify rolling back fundamental rights and state impunity. 
 
This is happening when the world is facing challenges that require a reinvigorated multilateral system such as climate change, terrorism, gender inequality, poverty, inequalities, pandemics, xenophobia, conflict etc.
 
ActionAid has not been spared attacks. The trend of closing civic space is also impacting on the achievement of ActionAid's mission - to achieve social justice, equality and poverty eradication by challenging and redistributing power and resources, strengthening the resilience of communities and movements and advocating for the rights of people living in poverty and exclusion.  This article presents finding of a survey conducted in February/March 2018 to document the nature of attacks that ActionAid countries have experienced, how they have responded, the impact and the lessons learned. Eleven (11) ActionAid countries participated in the survey: ActionAid Anonymous-Africa1; ActionAid Anonymous-Asia; ActionAid Democratic Republic of Congo (DRC); ActionAid-Anonymous2 Africa; ActionAid The Gambia; ActionAid Guatemala; ActionAid Pakistan; ActionAid Tanzania; ActionAid Uganda; ActionAid Zambia and ActionAid Zimbabwe.
 
The aims of the survey were to:
document the nature of the shrinking civic space and the modalities of attacks on ActionAid countries.
support ActionAid and its allies and partners to understand and learn from how ActionAid countries have responded to the attacks.
strengthen organisational learning and resilience among ActionAid countries and other stakeholders in the face of shrinking civic and democratic space, through analysing their operating contexts and preparations to push back as well as take advantage of opportunities that emerge in such situations.
inform the development of a coordinated response by ActionAid countries, partners and allies to counter attempts being made to shrink civic and political space.