Campaigning mothers groups save girls from early marriage during Covid-19 lockdowns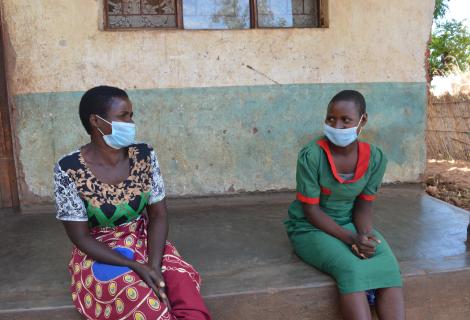 At a primary school in rural Lilongwethe, the headteacher, Grey Banda, is fearful that there will be an even steeper rise in school dropouts this year due to a surge in early marriages and harmful cultural practices.
Even before Covid-19 hit Malawi, the school was faced with shocking dropout statistics.  Last year, 190 pupils enrolled into grade one, for children aged 6 -7, but only 20 pupils enrolled in grade seven, for those aged 15 -17. Now, with communities seeing the harsh economic impacts of Covid-19 lockdowns, Grey is worried this year's dropout rate will be much higher, particularly for girls.
He says: "It is a grim future for girls. The lockdown means there will be a surge in teen pregnancies and marriages. I worry that most of the girls may not return to school.
"Their families have been struggling with hunger meaning they have been forced to marry their daughters. I am fearful for the education and empowerment of girls in our school and across Malawi."
Rigines, 17, feared her dream of becoming a teacher had been lost to the pandemic, with many girls from poorer backgrounds being pushed into early marriage and pregnancy.
She says: "Being the eldest female child in our family I am responsible for almost all the household chores, including fetching firewood for cooking. I could not access the remote radio learning programmes during the closure, and I had no time to read."
Rigines found support from one of ActionAid Malawi's Mothers Groups, which run across four districts, Chitipa, Ntchisi, Lilongwe Rural and Neno. The groups protect girls from early marriage and support them to stay in school after pregnancy.
Chrissy Chinjeza, leader of Chaola Mothers Group, says they have reached around 60 girls during the Covid-19 school closures, providing mentoring and support to keep girls in school. Restrictions have prevented the group reaching as many girls as we would have liked.
"We are proud of our efforts to save the girls' future from the Covid-19 early marriages and pregnancies. However, the government needs to invest more resources towards girl's education so that if this situation arises again, girls' dreams should not change into nightmares," she says.
The Mothers Groups also campaign for increases in public tax revenue through progressive and equitable tax reforms that support government spending on quality public education for all, especially for girls and marginalised children.
Thanks to the support of the Mothers Group, Rigines has been able to continue with her education.
She adds: "Chrissy and the Mothers Group kept my dream of becoming a teacher alive during the school closure. When I take my primary school leaving certificate examinations, I will work hard so that I don't disappoint them!"