The people of Matarbari Island make themselves be counted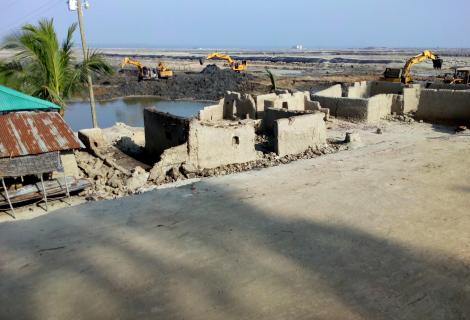 When development leaves people behind, campaigning for justice becomes a necessity
A major energy infrastructure project in Bangladesh is having a huge impact on the host communities. While the project is recognised as a national priority, the interests of the communities have been neglected and their rights violated.
The challenge for civil society is to find a way to support the communities' struggle to assert their rights in a way that does not provoke a backlash for being perceived as a threat to national development.
ActionAid and its partners have adopted a three-pronged approach of immediate humanitarian assistance to those in desperate need, supporting community organisation and leadership to defend their rights and effective international advocacy.
Development, upheaval, broken promises
In order to overcome a long-term energy shortfall, the government of Bangladesh instigated "…the biggest project in the power sector in terms of both investment and power generation capacity in Bangladesh's history" according to Abul Quasem, the Managing Director of the state-run Coal Power Generation Company Bangladesh Ltd (CPGCBL).
Densely populated Matarbari Island on the south east coast of Bangladesh, just north of the town of Cox's Bazar, was selected as the site for two major projects, one consisting of two 600MW coal-fired power stations, the other two 700MW plants.
Increased power capacity is considered essential to boosting the Bangladesh economy and, with the associated port developments and economic zones, promises to turn Matarbari and the surrounding areas into a 'new Singapore'.
Around 90,000 people depended on the land and shoreline for salt production, shrimp farming and crop production. Most of this has been taken since 2013-14 when the first 1,414 acres of an eventual 5,000 acres were acquired according to local people. The process of land acquisition was often obscure to owners and failed to involve free, prior and informed consent.
Conditions for the majority of the population are dire
Before work started, assurances were given that those affected would receive, within three months, fair compensation for land and 21 categories of lost occupations, rehousing for those displaced and opportunities for employment.
However, five years later, conditions for the majority of the population are dire. Landowners claim that they have either not received any compensation, received insufficient compensation or lost much of the value in dubious fees charged and travel costs incurred in attempting to claim the money. Many have abandoned attempts to collect small amounts of compensation that require travelling from the island to Cox's Bazar.
When families have tried to buy alternative land they have found that the compensation they received was below market rates and insufficient to purchase equivalent land elsewhere. There also appear to be large disparities in the value of compensation offered to different landowners. However, only 20% of the population owned any land at all, the vast majority depended on working as labourers on the land and the surrounding shoreline and have completely lost their livelihoods.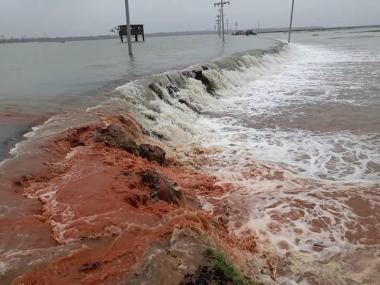 When you're already marginalised, devastation can strike at any time
This part of Bangladesh is particularly vulnerable to extreme weather events, the most devastating in recent times being the super cyclone of 1991 that killed almost 140,000 people across the country and left 10 million homeless.
In response to that disaster, as part of national preparedness policy, an embankment was built around Matarbari island by the Bangladesh Water  Development  Board  together with a network of canals and a series of water-controlling sluice gates to drain flooding from cyclone-induced storm surges as well as regular seasonal monsoon rainfall. However, the power station construction work has destroyed much of this established protection and blocked all the sluice gates and the main drainage canal resulting in flood water being retained, water logging much of the island for lengthy periods over the past two years.
The road network has been disrupted with an impact on food prices
This has had a huge impact on the remaining farming, fishing and salt-production activities that the population depends on, leading to mass unemployment and food shortages.
The road network has been disrupted with an impact on food prices that have risen by at least 25% due to loss of local production and poor transport links. Around 1,000 families, approximately 10,000 people, have been left at risk of hunger. Schools and clinics have closed, limiting access to essential services. Homes are flooded resulting in latrines overflowing into stagnant water around houses. Polluted water supplies have led to deteriorating health conditions including diarrhoea and skin diseases.
At least two children have drowned and two babies lost at childbirth due to lack of access to medical services. Ahmed Hossain told ActionAid, "One of my neighbours died in pregnancy because she couldn't get to the doctor."
Skin diseases and other ailments have become common. Anar Koli said, "I have skin diseases on my hands and feet, I have also had colds and fevers due to this flooding." Many livestock and poultry have also died due to drowning or water borne diseases. All of this has resulted in impoverishment and displacement of at least 300 families, including the entire village of Ulughona. One woman, Bori Begum, reported:
"We don't even have a place to bury our dead when they die."
Women, children, the elderly and disabled are disproportionately at risk as they are more confined to the home and have less opportunity to migrate for work and other opportunities.
First needs…
There has been no direct support from central government or action to repair the drainage systems. The local authority has set up a temporary system of pipes and pumps at considerable expense but the efforts are inadequate to deal with the scale of the problem and they have no further resources to assist the people. The worsening situation through 2017 and 2018 required emergency humanitarian intervention.
ActionAid has been working in Bangladesh since 1983 and with local partner YPSA for decades, recently in Cox's Bazar District in response to the Rohingya refugee crisis. YPSA brought the situation of the communities on Matarbari Island since the start of the power station construction to ActionAid's attention.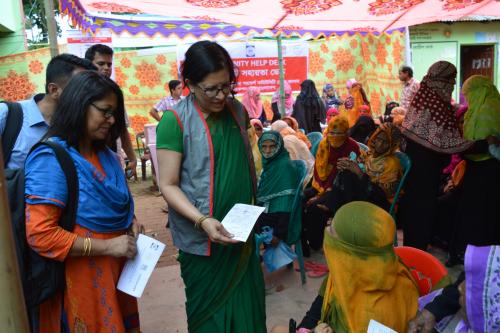 Immediate humanitarian assistance has been provided to 950 of the most vulnerable families. In line with ActionAid's humanitarian approach, women have been at the forefront of the response.
Women community leaders identified the families and worked with the Matarbari Union Parishad, the lowest level of local government administration, to distribute BDT5500 (US$65) in immediate relief to each targeted family in July and August 2018.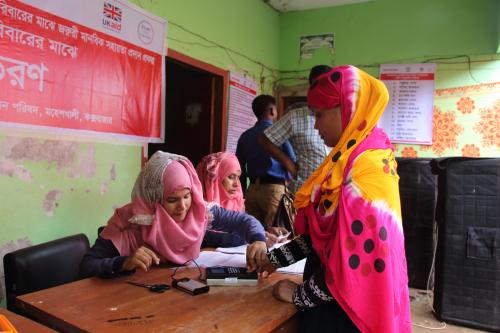 The women-led relief approach has strengthened women's organisation and leadership as well as raising awareness of the risks to health through the poor water and hygiene conditions. The receipt of cheques has put money in the hands of women and helped them engage with the banking system. Bori Begum reported:
"Now I don't feel like I'm begging anymore."
…and making lasting change
Combined with this immediate support, ActionAid and YPSA are working to ensure long-term justice for the communities. Central to this approach has been to support communities to organise and represent their own issues both via their local and national representatives and directly to those responsible for impacting on their lives.
Demonstrations to demand effective action
This has involved supporting the population to form community groups, providing training and capacity building on legal issues and creating links with local and national media to assist their voices being heard. 34 people's organisations, such as the Community Land Rights Group, have been formed across the island. Training has been provided on laws and policies related to land acquisition. These organisations have taken the initiative to hold meetings with local elected representatives despite local government having no significant resources to support the people.
Their concerns have been raised to the developers and contractors by holding demonstrations to demand effective action to control the flooding, provide local employment on the project sites, fair compensation and rehousing for those displaced. Several protests have been held and journalists have attended to hear from those affected.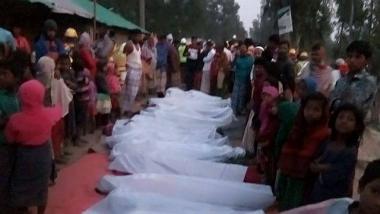 On 23 November 2017, members of 45 displaced families lay down on the site access road swathed in white burial cloths to demonstrate the depth of their despair. This protest blocked access to the coal plant and stopped the movement of all construction vehicles.
CPGCBL and local authority representatives came to talk to the protesters and promised that their concerns would be addressed. The protesters agreed to withdraw their demonstration pending a satisfactory outcome. But community leader Mohammad Ali warned:
"If you do not fulfill our demand, if you do not rehabilitate us soon, if you do not give us work, then this will truly be the death of us."
Some local political leaders and civil society organisations came out to express their solidarity with the displaced protest. This and similar actions have generated a large amount of press coverage but also intervention by law enforcement agencies to prevent any further activities that interfere with the project and increased surveillance of those who have spoken out to defend rights.
When you start following the money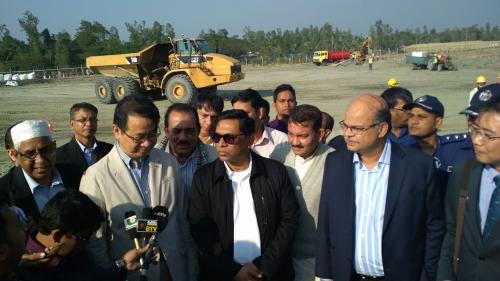 ActionAid has also sought other ways to support the communities struggle for their rights. The Japan International Cooperation Agency (JICA), the official Japanese government overseas development agency, is providing US$3.7 billion of the US$4.6 billion funding for the 2x600MW projects.
to ensure that responsibility is taken to minimize and compensate for any negative impacts
The Japan Center for a Sustainable Environment and Society (JACSES) is a Japanese NGO that monitors Japanese development finance projects. Yuki Tanabe from JACSES says they had a particular focus on Matarbari from an environmental perspective because it is intending to import and burn vast quantities of coal. When JACSES contacted ActionAid and YPSA, as agencies working with local communities, they discovered the other social and economic impacts of the project.
Tanabe contacted JICA, who have an Environmental and Social Considerations Policy that aims to ensure that responsibility is taken to minimize and compensate for any negative impacts on the environment or society due to its activities.
JICA denied that the water logging had anything to do with the project. So Tanabe undertook a site visit and looked in detail at the embankment, the canal system and the design of the construction site and "…found that clearly the water logging is due to the project development… According to JICA guidelines, JICA has to monitor the project after they approve it but basically the monitoring work is not active, so they only receive reports from the implementation agencies."
Unless there is independent monitoring, such policies can easily be sidelined. Tanabe points out:
"Because JICA is supervised by the Japanese government, so JICA is also supporting, contributing to the Japanese economy.  In the Matarbari case, Japanese companies are also involved and a Japanese company is planning to provide the technology to this power plant. So that's why JICA approved this project."
Farah Kabir, ActionAid Bangladesh Country Director, responds:
"It's all economics. How much trade and how much business I can do. And if you give me the contracts I turn my eyes away from human rights violations."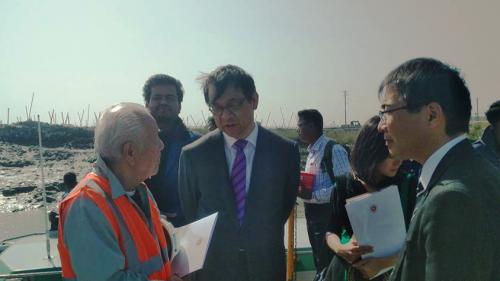 Based on the information given by JACSES, JICA invited ActionAid for discussions. This resulted in a meeting between ActionAid and JICA  at the JICA office in Dhaka in September 2018. ActionAid handed JICA situation reports, news cuttings from various local and national newspapers and photos of the water logging.
JICA clarified its position as co-funder, rather than owner, of the project but Mr Yoshibumi Bito, Senior Representative, JICA Bangladesh made a commitment that, as a project funder, JICA would strongly represent to CPGCBL the requirement to comply with the environmental and social guidelines.
Following on from the meeting in September 2018 JICA undertook a site visit to assess the situation. A high level JICA team met affected people and community representatives forcefully put across their situation. Matarbari Union Parishad chairman Mohammod Ullah stated:
"Although for the last three years I have presented the matter to the coal power authority many times they have replied to me that they have no money to do any other work from the project fund."
Union Parishad members and community human rights defenders highlighted different aspects of the losses due to water logging, destruction of livelihoods and discrepancies in the compensation payments. Mr Ullah appealed to the JICA team to save Matarbari's people from this disastrous situation.
Some immediate improvements have taken place
The JICA team was reported as making the commitment: "We are financing the construction of Matarbari coal power plant. We have moral responsibilities towards the people here. An NGO from Bangladesh complained to a volunteer organisation in Japan that due to the dam at the coal power station, the people around the project have become trapped by water and sustained massive losses. We have come to discuss with you on this allegation. What you convey about this matter will be seriously considered by JICA."
Following the site visit some immediate improvements have taken place including increased employment of local labour, additional compensation for land owners and free transport for local people, providing hope to the community for further future changes.
However, good as the immediate improvements are, Farah Kabir, says:
"If the design had been done in consultation with the community we might have avoided some of the problems…Suffering in the first place could have been avoided…"
The environmental situation is still bad; Yuki Tanabe judges that "it is still far from sustainable development". But recognition by one of the major participants in the project has provided confidence to the community to continue to demand their rights despite the huge concentration of influence and power they are seeking to demand accountability from.
The pressure has to be on both sides
Tanabe insists,
"That's why the engagement with the donors like JICA is very important. If people can raise the issues to the donor agency, the donor agency can check the problem and ask the implementation agency to improve the situation."
Kabir agrees:
"I absolutely believe that this is one of the strategies, that's why we are so committed to it…when we have partnership with civil society in the country from which these contractors are coming or where the funding is coming, then they can also hold their governments accountable… The pressure has to be on both sides and that collaboration is critical."
Development for whom?
In the below video, Farah Kabir and Yuki Tanabe discuss the violation of rights due to mega infrastructure projects, and strategies to hold authorities to account and improve conditions for affected communities.
ActionAid is also working to extend the network of support for these communities by engaging with the Asian People's Movement on Debt and Development, who have also taken up the issue with the Asian Energy Platform and in other forums.
The environmental, social and economic impacts of this mega infrastructure approach to Bangladesh's development will continue to impact poor communities far beyond those of Matarbari island. While such projects are prioritised as essential for national development any opposition risks being dealt with harshly as attacking the national interest.
Communities, civil society organisations and organisations like ActionAid need to find strategies such as these to be able to raise issues and hold authorities to account, frequently to standards they have themselves formally signed up to.
This needs a huge investment of patience, creativity and solidarity to overcome setbacks and produce results that support the strengthening of communities' capacities to demand and achieve their rights.