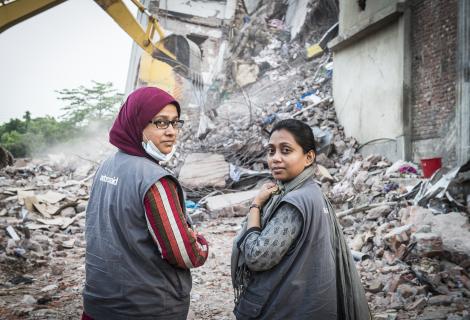 Our feminist approach to protection in emergencies
Putting women's leadership and rights at the centre of humanitarian response
Downloads
There is a growing recognition of the disproportionate impact of humanitarian crises on women and girls. Women and girls of all ages and abilities face increased risks of violence, exploitation and abuse. Still, their needs are persistently overlooked or ignored. This aggravates existing vulnerabilities in times of crisis.
In emergencies, humanitarian participants must assume gender based violence is increasing. They should take action regardless of concrete evidence, which may not be forthcoming. Despite this, protection remains one of the lowest-funded areas of intervention in emergencies. Protection is even deprioritised at the onset of emergency response. With an estimated 64.3 million women and girls in humanitarian crises, explicit women's rights interventions are urgently needed.
Our feminist approach to protection aims to support women in humanitarian action. We focus on the essential role of women leaders in strengthening community reslience and protection. Women's rights and women-led responses should be at the heart of all intervention, driving safety and dignity for all.
This approach is about localising humanitarian action. This is achieved by shifting power to women's collectives and organisations. Promoting and enabling women's roles and rights to be central in humanitarian action will help reduce the current male-dominated and gender biased international humanitarian system. This way, we can make responses to humanitarian crises more effective and gender transformative.
For more information or to obtain a copy of the full toolkit, please contact emergencies.information@actionaid.org