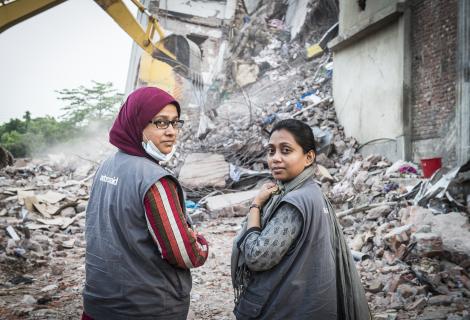 'Safety with Dignity' - Women-Led Community-Based Protection manual
Putting women's leadership and rights at the centre of humanitarian response
Downloads
Since 2005, ActionAid has been pioneering and evolving community-based protection efforts in times of crisis. A Women-Led Community-Based Protection (WLCBP) approach in humanitarian response represents the next phase in our work.
The WLCBP approach builds on local women's strengths, knowledge and experience. It recognises women's capability to drive their protection, identifying problems and solutions and creating community-based support structures that can better protect women's rights in times of crisis.
Over the next five years, our goal is to scale up this approach through ActionAid's humanitarian response efforts around the world.
Safety With Dignity (2019 edition) is ActionAid's WLCBP manual. It outlines the theory and core components of the WLCBP approach. It builds on ActionAid's feminist, human rights based model seeking to build women's individual and collective power, transform systems and structures, and strengthen access to rights, services and resources.
An accompanying hands-on toolkit for practitioners is in development, due to be published in early 2020.